Dixon wins race one in Toronto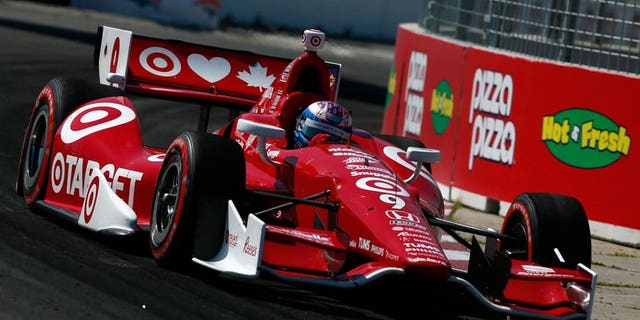 TORONTO, Canada (AFP) – Kiwi Scott Dixon held off Sebastien Bourdais to capture the first race of a IndyCar Series weekend doubleheader over the streets of Toronto.
Dixon, who led a total of 14 laps in race one, seized the lead from Bourdais with eight laps left in the race.
Alex Tagliani was involved in an incident late in the race which resulted in a caution and set the stage for a two-lap sprint to the finish.
Following the restart, Dixon grabbed the lead from Bourdais and won the race by less than two seconds.
Earlier in the day, Dixon won the pole position for the second Toronto race, which is scheduled for Sunday.
"These doubleheaders are tough," said Dixon. "We got through race one. Just a crazy day. This is what we need to get the momentum going."
Dixon's win comes six days after he scored his first win of the season at Pocono Raceway.
It also marked his 31st career victory placing him in a tie with his Chip Ganassi Racing teammate, Dario Franchitti, as well as Paul Tracy and Bourdais for seventh on the all-time Indy car race winner list.
It's the first time Dixon has posted consecutive wins in the series since 2008 at Edmonton, Alberta and Kentucky.
"For us, it feels like a win today," said Bourdais, of France. "We fought hard all day, took the lead. A little surprised, but just super happy for the crew. I couldn't be any happier to finally get on that podium."
Franchitti crossed the finish line in third, but officials initially ruled that he blocked Will Power on the final lap. He was slapped with a 25-second penalty which dropped him to 13th.
Franchitti protested the penalty. Officials then reinstated his third- place finish after a review.
"There wasn't any blocking," Franchitti said. "Basically, you can't make a move in reaction to another car. I didn't make a move in reaction to another car. I'd gone to the inside.
Meanwhile, IndyCar officials have also placed driver Takuma Sato on probation for the next five races as a result of his actions during last Sunday's Pocono Raceway event.
Sato violated Rule 9.3.1.1, which states "a driver must not engage in reckless, careless and/or overly aggressive actions or unsportsmanlike behavior toward other members," when his car made contact with Ryan Hunter-Reay's car while entering pit lane on Lap 61.