Diners at N.Y. Mexican restaurant say they were booted for being Trump supporters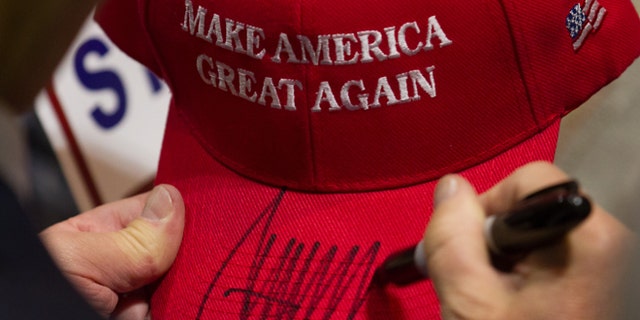 NEWYou can now listen to Fox News articles!
When Esther Levy and her friend Alvin Goldstein went into the Cancun Inn to order a couple of drinks, they never would have imagined they'd end up booted out for their political support of Donald Trump.
Levy, 61, walked into the Mexican restaurant in in Sugar Loaf, New York – about 60 miles north of New York City – decked out in a "Make America Great Again" baseball cap, and sporting a shiny red, white and blue Trump button. The presumptive Republican presidential candidate has angered many Mexican-American immigrants with his harsh rhetoric about illegal immigration and hardline positions that include building a wall along the U.S.-Mexico border and creating a special armed force to deport people in the country without documentation.
After ordering sangria, the server told Levy and Goldstein they would have to leave the restaurant.
"I was shocked," she told the New York Post.
A man who Levy says identified himself as the co-owner of the restaurant, told the two, "We don't serve Trump supporters here. Get out of here and never come back."
Goldstein told the paper that he retorted that Trump would be the next president, to which the co-owner replied that Democratic candidate Hillary Clinton would win.
The Cancun Inn, which is owned by Israel and Mario Campos, is closed until Wednesday. On the restaurant's Facebook page, Israel's son Chris posted a statement on behalf of his father.
"We have never, and will never discriminate against anyone based on race, religion, gender, sexual preference or political beliefs," it read, adding that, "An employee of ours asked the patrons to leave because they were being rude to the staff and rowdy due to intoxication."
Levy denied the claim and told the Post she was a longtime customer of the restaurant.
Campos went on to say in the post, "I'm personally looking into the facts based on what our staff witnessed and what's been posted here on Facebook. I would like to speak with the customers involved, so please call the restaurant so I can get your side of the story."
Yeshiva University-trained Rabbi Bernhard Rosenberg, a self-proclaimed "Rabbi for Trump," came to the defense of Levy and Goldstein in the Post.
"This is happening all over the country. We're not going to stand by and allow anyone to push us around," Rosenberg told Fox News Latino.
Rosenberg, who is a Holocaust scholar, responded to the suggestion that a recent Trump ad depicting Democratic nominee Hillary Clinton next to what looked like a Star of David – the GOP candidate's campaign says it is a sheriff's star – superimposed over piles of money could be interpreted as having an anti-Jewish bias, Rosenberg told FNL, that the GOP candidate is clearly not anti-Semitic.
"His daughter is married to a Jewish guy, and she converted," the rabbi pointed out. "Trump's son is marrying a Jewish girl, and [Trump] has Jewish grandchildren."