Dennis Rodman -- who sang karaoke with Kim Jong-Un -- says he could help leader change his tune
NBA Hall-of-Famer Dennis Rodman said Wednesday he would like to "straighten things out" between North Korean Dictator Kim Jong-Un and the United States amid nuclear tensions.
Rodman, who has made trips to the isolation nation in the past, told a British television show that he has a history with Kim. He said they skied together and sang karaoke.
"For me to go over there and see (Kim) as much as I have, I basically hang out with him all the time. We laugh, we sing karaoke, we do a lot of cool things together. We ride horses, we hang out, we go skiing, we hardly ever talk politics and that's the good thing," Rodman said, according to Reuters.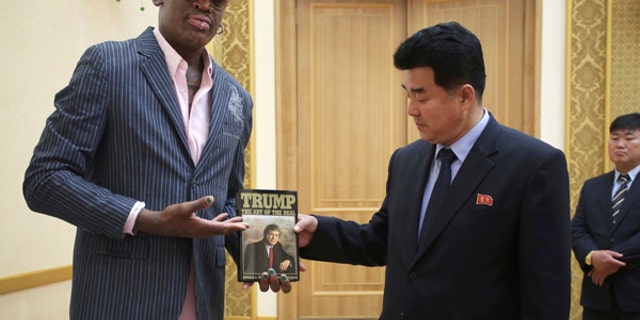 The legendary rebounder said he was not trying to defend Kim's provocations and was "just an ambassador for sports."
"I don't love (Kim). I just want to try to straighten things out for everyone to get along together," he said.
Rodman visited North Korea in June and was seen giving President Trump's book "The Art of the Deal" to North Korean Sports Minister Kim Il Guk. He said at the time he was "just trying to open a door" through his trip. He also made a trip to North Korea in 2014.
His statements come after North Korea tested a hydrogen bomb last weekend, stoking the tensions between Pyongyang and the international community.