Defense Cuts Mean Lost Jobs, Opportunities For Minorities, Hispanic War Veterans Warn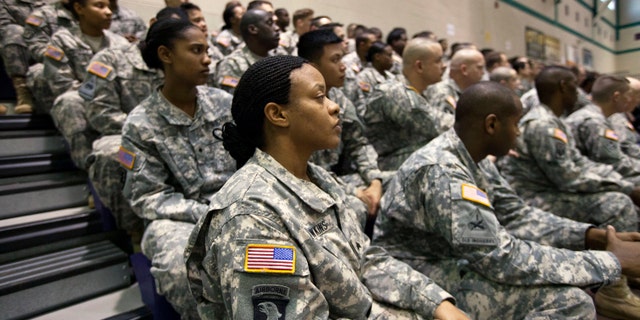 NEWYou can now listen to Fox News articles!
The Pentagon's proposed defense cuts – shrinking the U.S. Army to its smallest size since before World War II – has Hispanic war veterans concerned about the thousands of current military personnel who are going to lose their jobs and worried about lost opportunities for the next generation of Latino youths.
Under the five year budget proposed by Defense Secretary Chuck Hagel on Monday, the U.S. Army would be reduced by as much as 80,000 troops from the current size of 520,000 to possibly as low as 440,000, slashing the Army to its smallest size in 74 years and eliminating a fleet of Air Force fighter jets.
The Pentagon budget would be cut by $75 billion over the next two years. Personnel and programs at major bases from Fort Jackson, S.C., to Fort Hood, Texas, could be significantly scaled back.
"We need the ground troops regardless of how many machines we have," said Gumersindo Gomez, a Vietnam veteran who served in the Army for 20 years and has been the Director of the Bilingual Veterans Outreach Center of Springfield, Massachusetts, for 28 years.
As director, Gomez, 65, has seen firsthand the cost of not investing enough in the nation's servicemen and women. Over the years, he told Fox News Latino, he's helped as many as 15,000 veterans and their families file disability claims or attempt to get new jobs.
"We have no jobs for these people if they get released from military services," said Gomez. He fears that slashing 80,000 troops from the Army is going to be overwhelming in this economy.
As of 2012, the U.S. Army says about 14 percent – nearly 73,000 troops – of its active duty forces are Hispanic, nearly doubling since 1998, when 7.6 percent of active duty troops were Latino. If the Army's active duty troops are cut by 20 percent, more than 14,000 Latino Army servicemen and women could be let go.
"I'm not ready to pick up another 100 veterans," he said. "Secretary Hagel is not talking about what's going to happen to those individuals once they are released from service, as if they aren't his responsibility."
More than 100 veterans are in the center's job placement program and in six months they've been able to place 13 of them. Gomez says part of the problem is employers who are afraid to hire combat vets because of fears of post-traumatic stress disorder and more general worries about the possibility of aggressive behavior in the workplace.
Hagel called the cuts "difficult choices" but they are an effort to move resources away from large war time ready troop sizes into better technology and equipment.
The honorable Michael Montelongo, a former Pentagon appointee under George W. Bush whose job was the equivalent to being CFO of the U.S. Air Force, told Fox News Latino that he doesn't expect the proposed defense budget to be the last word, though he called the cuts, "decreases that are normal when you come out of war."
A 20-year-Army veteran, Montelongo, now a senior vice president at the food-service multinational corporation, Sodexo, also said that large cuts in personnel could have an impact on recruiting. "It doesn't have an immediate impact, but at some point these cuts can start to have reverberations down the recruiting pipeline."
Ultimately, he said, downsizing will mean that "the military will just become a bit more competitive."
Which doesn't mean that the process won't be painful. Rep. Loretta Sanchez (D-CA), who is the second highest ranking Democrat on the House Armed Services Committee.
"As we pull out of two wars, we need to consider what our strategic needs truly are and pass a budget that reflects those needs and is fiscally responsible," Sanchez told Fox News Latino in a statement.
The Congressional Hispanic Caucus does not have an official stance at this time on the proposed defense cuts, but there is no doubt that they would have severe repercussions on many communities, including Killeen, Texas.
"Fort Hood is the lifeblood of Killeen and surrounding communities," said José Segarra, 49, Killeen city council member and a real estate broker.
Segarra, who served in the army for 10 years, says if the Pentagon decides to cut medical, commissary privileges and jobs, it'll drive consumers away from the town. He recalled that Killeen looked like a ghost town after the troop reduction after the first Gulf War.
"It's not just the military – it's the spouses, the dependents. One person not being hired affects everybody," he said.
Another concern is that a major shrinking of troop levels will mean diminishing opportunities for Latinos who can't afford or choose not to go to college. Growing up on the Southside of Chicago with his Puerto Rican family, Segarra said that if it weren't for the military he would not have been able to become a politician or a businessman.
"I think the military offers a lot of Hispanics the ability to develop as leaders," Segarra explained.
Other veterans, like Frank Medina, the National Chair of the Borinqueneers Congressional Gold Medal Alliance, believe the cutbacks might not be such a bad thing.
"I chose the military to start off my career, but it's not the only option," Medina said. "It may be a silver lining for other Latinos to find other ways to grow."