Death Toll From Indonesian Disasters Nears 430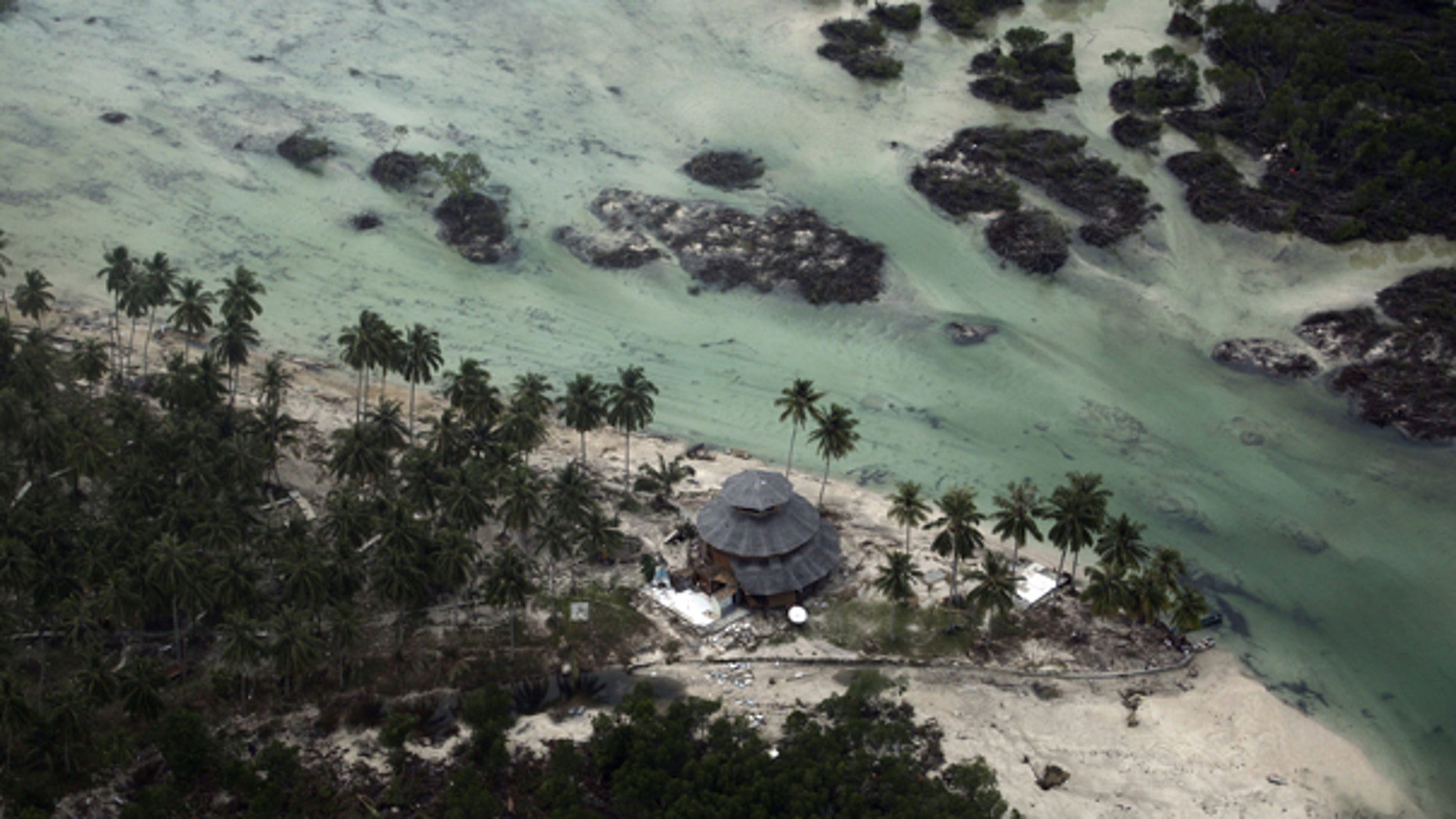 MENTAWAI ISLANDS, Indonesia -- The death toll from a tsunami off western Indonesia rose Friday to more than 400, while injured survivors at a sorely strapped hospital languished on the floor near a newly orphaned 2-month-old baby found in a storm drain.
The dozens of injured lay on mats or the bare floor as rainwater dripped onto them from holes in the ceiling and intravenous cords hung from plastic ropes strung from the rafters.
"We need doctors, specialists," nurse Anputra said, as the baby blinked sleepliy in a humidified crib at the tiny hospital in Pagai Utara -- one of the four main islands in the Mentawai chain slammed by Monday's tsunami.
The toll rose to 408 on Friday as officials found more bodies, and 303 people were still missing, said Agus Prayitno, of the West Sumatra provincial disaster management center. Rescue teams "believe many, many of the bodies were swept to sea," said Harmensyah, the disaster center's chief.
Along with the 33 people killed by a volcano that erupted Tuesday more than 800 miles (1,300 kilometers) to the east in central Java, the number of dead from the twin disasters has now reached 441.
After a lull that allowed mourners to hold a mass burial for victims, Mount Merapi started rumbling again Thursday with three small eruptions and three others early Friday -- easing pressure and possibly making another big eruption less likely. There were no reports of new injuries or damage.
The catastrophes struck within 24 hours in different parts of the seismically active country, severely testing Indonesia's emergency response network. The tsunami was spawned by a 7.7-magnitude quake that struck late Monday beneath the Indian Ocean.
Aid workers trickling into the remote region found giant chunks of coral and rocks in places where homes once stood. Huge swaths of land were submerged. Swollen corpses dotted roads and beaches.
At the hospital on Pagai Utara, 35-year-old Sarifinus cradled his 5-year-old, Dimas, who screamed as medical staff tended to his broken arm.
The man described how, when the towering wall of water came, he grabbed his two other young sons and ran toward the mountain. The wave tore both from his arms and sucked them away.
Sarifinus and his wife, Martina, who sat staring blankly in a corner of the hospital, found Dimas alive after the waters receded.