Deadly bus crash in Brazil claims at least 49 lives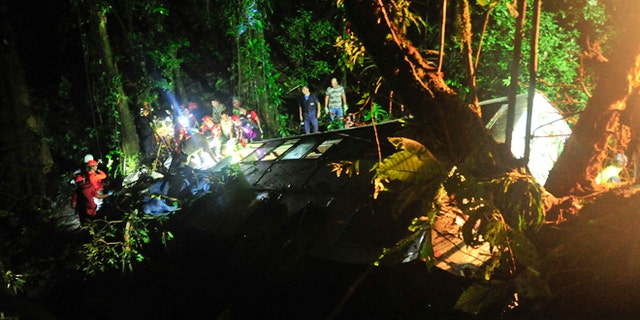 RIO DE JANEIRO (AP) – A bus carrying about 50 passengers plunged down into a deep ravine in the mountains of southeastern Brazil late Saturday killing at least 49 people, a police official said. Police renewed their search Sunday morning for more victims.
The dead include eight young children, three adolescents, 24 women and 14 men, the government of Santa Catarina state said in a statement. The bus plunged 1,300 feet down a mountain near the city of Joinville on Saturday. Ten people were transferred to nearby hospitals, including two children. Their conditions were unknown.
Officials said that the death toll could rise because more bodies could be found under the bus and in the woods. Police officers and emergency personnel started working on removing the bus on Sunday from the mountainous area in Serra Dona Francisca.
The bus crashed on a curvy road that wound through a verdant green region popular for hiking and biking in Santa Catarina state, located about 600 miles southwest of Rio de Janeiro.
The cause of the accident is under investigation although authorities suspect the driver may have lost control on a curve making the bus ran off the road.
The group was traveling from Uniao da Vitoria for a religious event near the coast in Paraná state. The bus company could not be reached for comment.
Like us on Facebook