David Petraeus Scandal Investigation Widens to Include Gen. John Allen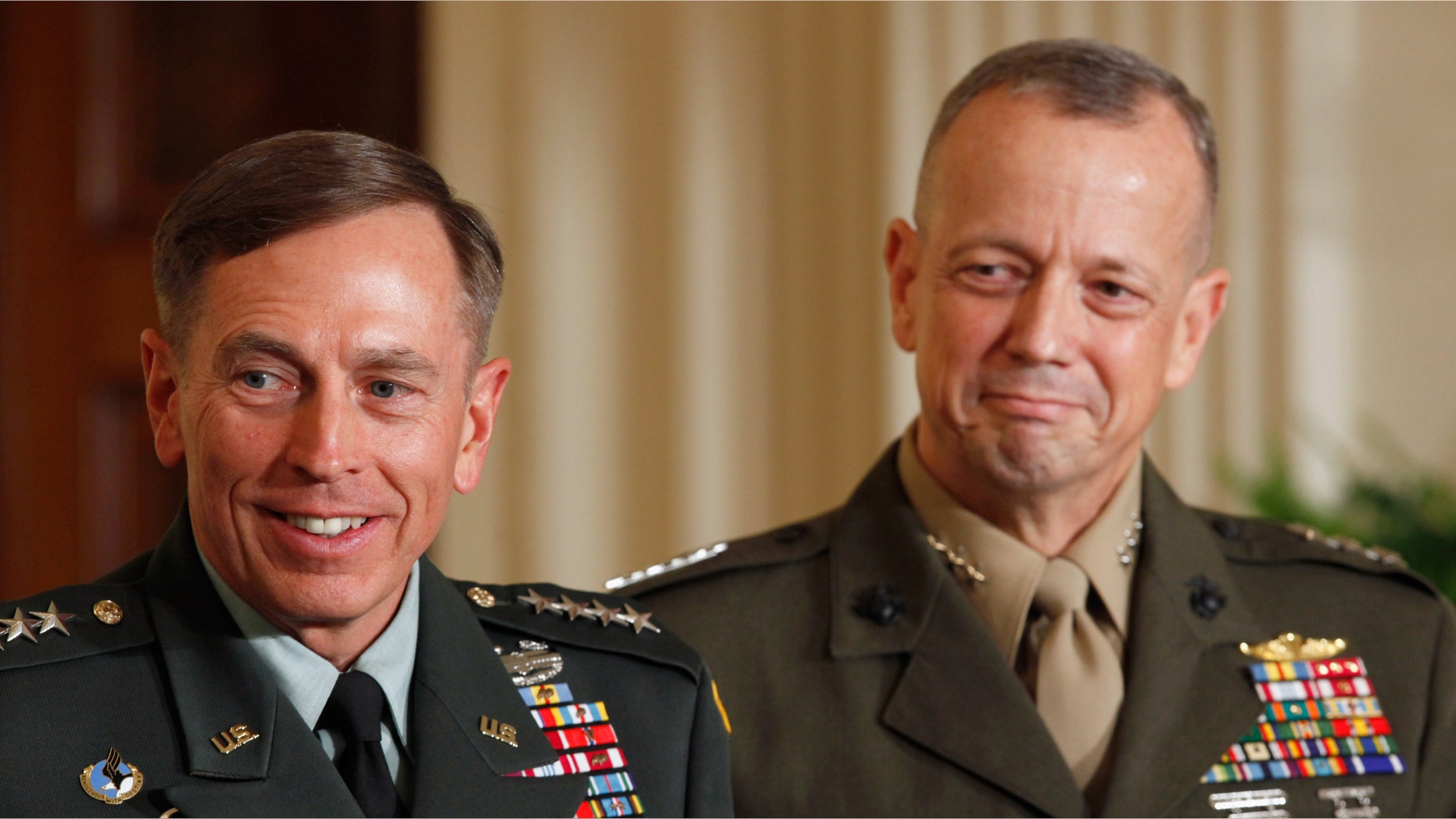 WASHINGTON – The sex scandal surrounding the downfall of CIA Director David Petraeus is growing .
As of Tuesday, another top U.S. military commander is under investigation for alleged "inappropriate communications" with another woman involved in the case.
As the FBI prepared a timeline for Congress of its investigation that brought to light Petraeus' extramarital affair with his biographer, Paula Broadwell, Defense Secretary Leon Panetta revealed that the Pentagon had begun an internal investigation into thousands of pages of emails from Gen. John Allen to a second woman involved in the case.
Allen succeeded Petraeus as the top American commander in Afghanistan in July 2011, and his nomination to become the next commander of U.S. European Command and the commander of NATO forces in Europe has now been put on hold.
In a White House statement early Tuesday, National Security spokesman Tommy Vietor said President Barack Obama has held Allen's nomination at Panetta's request. President Obama, the statement said, "remains focused on fully supporting our extraordinary troops and coalition partners in Afghanistan, who Gen. Allen continues to lead as he has so ably done for over a year."
It was Broadwell's threatening emails to Jill Kelley, a Florida woman who is a Petraeus family friend, that led to the FBI's discovery of communications between Broadwell and Petraeus indicating they were having an affair. Petraeus acknowledged the affair when he resigned from the CIA post on Friday.
In the latest revelations, a Pentagon official said 20,000 to 30,000 pages of emails and other documents from Allen's communications with Kelley between 2010 and 2012 are under review. He would not say whether they involved sexual matters or whether they are thought to include unauthorized disclosures of classified information. He said he did not know whether Petraeus is mentioned in the emails.
Allen has denied wrongdoing.
The case has sparked an uproar in Congress, with lawmakers complaining they should have been told earlier about the probe that has roiled the intelligence and military establishment.
Rep. Peter King, R-N.Y., chairman of the House Homeland Security Committee, called the case "a Greek tragedy."
"It's just tragic," King said on NBC's "Today" show. "This has the elements in some ways of a Hollywood movie or a trashy novel."
Meanwhile, FBI agents on Monday searched Broadwell's home.
The issue of what the FBI knew, when it notified top Obama administration officials, and when Congress was told, has brought criticism from lawmakers, who say they should have been told earlier.
The White House wasn't informed of the FBI investigation that involved Petraeus until Nov. 6, Election Day, although agents began looking at Petraeus' actions months earlier, sometime during the summer. Senate Intelligence Committee chairwoman Dianne Feinstein, D-Calif., complained that she first learned of the matter from the media late last week, and confirmed it in a phone call to the then-CIA director on Friday.
That was the same day Obama accepted Petraeus' resignation, and the 60-year-old retired Army general, who headed U.S. military operations in Iraq and Afghanistan before taking charge of the CIA, acknowledged an affair with Broadwell, and expressed regret.
Defending the notification timing, a senior federal law enforcement official pointed Monday to longstanding policies and practices, adopted following abuses and mistakes that were uncovered during the Nixon administration's Watergate scandal of the early 1970s. The Justice Department — of which the FBI is part — is supposed to refrain from sharing detailed information about its criminal investigations with the White House.
Based on reporting by The Associated Press.
Follow us on twitter.com/foxnewslatino
Like us at facebook.com/foxnewslatino