Dad Taking Photos of Daughter Is Banned From Mall on Terror Concerns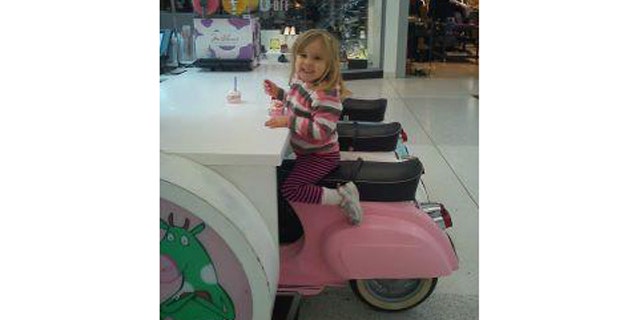 A father taking pictures of his daughter at a shopping center near Glasgow, Scotland, says he was banned from the mall and threatened with having his camera phone confiscated in the interest of preventing terrorism when he refused to delete the photos.
Chris White, 45, says police were called last week after he took photos of his 4-year-old daughter, Hazel, eating ice cream at Braehead shopping center, and a security guard approached him and asked him to delete the pictures and then banned him from the mall, the Daily Record reports.
The security guard allegedly told White that taking photos in the shopping center is "illegal" and that security could confiscate White's camera phone under the Prevention of Terrorism Act.
"I explained I had taken two photos of my daughter eating ice cream and that she was the only person in the photo, so I didn't see any problem," White said.
"I also said that I wasn't that willing to delete the photos and there seemed little point as I had actually uploaded them to Facebook."
Police arrived on the scene shortly afterward.
White says one of the police officers was "quite intimidating," but allowed him to keep his camera phone in exchange for offering his full details, including name, place of birth, age, employment status and address.
"Had I not had my daughter with me, and the fact that we are trying to bring our daughter up to respect and trust police officers, I may have exercised my right not to provide those details," White said.
A spokesman for Braehead Shopping Center says security acted in good faith.
"Retail staff at an ice cream stall in Braehead became suspicious after they saw a male shopper taking photographs of a child sitting at their counter. The staff thought the man had also been taking photographs of them and they alerted one of the center's security staff."
The spokesman said the retail assistants were unaware that the man and child were related.
"Like most shopping centers, we have a photography policy in the mall to protect the privacy of the staff and shoppers," a spokesman for Braehead said in a statement.
"However, it is not our intention to -- and we do not -- stop innocent family members from taking pictures."
A spokesman for Braehead says the shopping center is changing its policy to allow family and friends to take photos in the mall, effective immediately.
"We wish to apologize to Mr. White for the distress we may have caused to him and his family and we will be in direct contact with him to apologize properly."
White has set up a Facebook page in response to the incident calling for people to boycott Braehead shopping center.