D-Day stamp mix-up leads to apology from Britain's postal service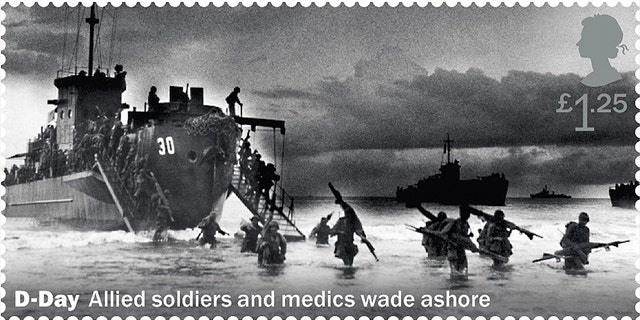 NEWYou can now listen to Fox News articles!
Britain's postal service issued an apology to veterans Friday over a botched stamp intended to commemorate the 75th anniversary of the D-Day landing next year.
The stamp shows U.S. troops landing in what was Dutch New Guinea in Asia -- not the June 6, 1944 Normandy invasion in northern France, the BBC reported.
A top Royal Mail boss delivered the apology Friday.
"I am writing to express my deep regret that the preview of our 2019 Special Stamps included a stamp design which was incorrectly associated with the D-Day landings," Stephen Agar, the postal service's managing director, said. "I am sincerely sorry for this mistake and the hurt it has caused, in particular to veterans and those who lost loved ones. I would like to reassure them, our people and our customers that this stamp will not be part of our set to mark the 75thanniversary of the D-Day landings."
On Thursday, Royal Mail announced plans to issue 11 special stamps in 2019 to mark D-Day's 75th anniversary
"The stamp issue will be a timely commemoration of all those who participated and will use images from the day itself," Royal Mail said.
The BBC said the image shot by the U.S. Coast Guard show troops carrying stretchers from a landing craft at Sarmi, Dutch New Guinea on May 17, 1944. The American National WWII Museum has the photo in its collection.
Agar said that going forward he hoped to work with veterans groups to ensure that the stamps "reflect the significance of the D-Day landings and the courage and sacrifice of those who took part."