Curacao police have new leads in $11.5M gold heist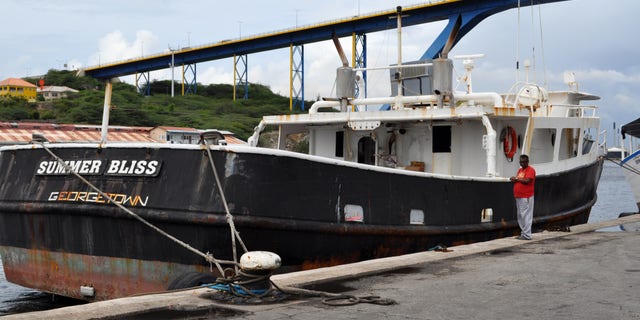 WILLEMSTAD, Curacao – Police in Curacao said Saturday that they have several leads following a brazen heist in which gunmen pretending to be police stole 70 gold bars worth an estimated $11.5 million from a fishing boat.
Authorities have the license plate number of one of three cars used in Friday's getaway, and they have been asking for the public's help in tracking the suspects, police spokesman Reggie Huggins told The Associated Press.
"There is information coming in," he said. "We are getting reactions from the public, but we still have to sort it out."
Police have said that at least six men were involved, but no one has been arrested in a case that surprised authorities in the Dutch Caribbean island.
Huggins said police are still interviewing the captain and three crew members of the ship, which contacted officials in Curacao about the incoming gold shipment as part of regular security protocol. The gold bars weigh about 216 kilograms (476 pounds).
Police declined to say where the gold was being delivered, but one crew member, who identified himself to the AP as Raymond Emmanuel, said they were delivering the gold to an unidentified company in Curacao.
He said the crew left Guyana on Monday and arrived in Curacao early Friday. Shortly after the ship docked, masked gunmen wearing jackets with the word "police" assaulted the boat's captain and then stole the gold bars.
Huggins said that security guards allowed the suspects to enter a restricted area thinking they were customs officials.
Rechenel Martyn, spokesman for Curacao Customs, said the boat's captain shared with authorities the intended recipient of the gold bars, but he declined to release the name because the case is under investigation. He added that the ship's crew followed protocol and that there is no special procedure for shipments of high value.
Meanwhile, officials in Guyana said they are investigating whether the gold was mined in the South American country, which is near Curacao.
Environment Minister Robert Persaud told the AP that they have requested details about the gold bars, adding that such shipments are usually flown directly to the buyer and involve heavy security. The ship's crew members have said they weren't armed.
Both Persaud and Anan Balram, director of Guyana's Gold Board, said that if the gold was mined in Guyana, it would be a clear case of smuggling.
"We don't want to jump the gun and say that the gold is from Guyana," Persaud said. "That is what we first have to establish, as well as if the ship many any other stops anywhere else."
Officials said there is no record of the ship, named "Summer Bliss," leaving Guyana's Port Georgetown Harbor, adding that it could have left from a pier at any of the country's numerous rivers.
Guyana produces roughly 650,000 ounces of gold a year, and officials say that up to half that amount is smuggled out of the country to avoid paying taxes. Most of the gold is sold in neighboring Brazil, Venezuela and Suriname.