Cuban Immigrant Slapped With Slew Of Charges Stemming From $2.8 Million Miami Gold Heist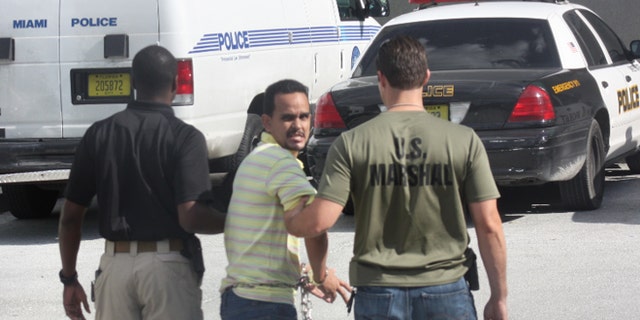 NEWYou can now listen to Fox News articles!
The Miami-Dade State Attorney's Office leveled a multitude of charges against a Cuban migrant who allegedly carried out a $2.8 million gold heist in South Florida before avoiding prosecution by fleeing into the Caribbean on a stolen speedboat.
Miami-Dade prosecutors charged 34-year-old Raonel Valdez with grand theft, armed robbery and battery for his alleged role in the March 2012 heist that netted 110 pounds of gold flakes – valued at nearly $3 million – from a courier in Coral Gables, Fla. Valdez also faces charges for various previous drug offenses.
Valdez, who purportedly committed the gold heist while on bail and wearing a GPS ankle bracelet, was deported from Belize on Wednesday and flown to Miami, where he is being held at a Miami-Dade County jail. At a hearing Thursday, he was denied bail.
"Based on his past history, he is certainly a risk of flight and we assume he still has access to a lot of cash and an underground network that could smuggle him out of the country," David Bolton, a private investigator working the Valdez case for Quri Wasi, the company whose gold was stolen, told Fox News Latino.
Valdez's lawyer Alex Michael maintains his client is innocent and believes authorities only asked for extradition because of growing national media interest on the case.
"I think they wasted the money and the time to bring him from Belize," Michaels told Fox News Latino. "I do not believe they should have brought him back for a case, in my legal opinion they cannot prove. They did it because of publicity."
In June 2007 – two years after arriving in the U.S. from Cuba – Valdez was busted for possession of marijuana. He was soon paroled and, the next year, cops found 85 grams of methamphetamine under the hood of his car. In July 2008, Valdez was arrested again, this time for aggravated assault with a deadly weapon for attacking security guards while trying to steal an $18 pair of garden shears at a Home Depot.
Valdez then jumped bail and fled to Mexico, where he soon ran afoul of authorities there and was arrested on charges of human smuggling for taking people from Cuba to Mexico.
"I am not aware of any charges or arrest on human smuggling," Valdez's lawyer told Fox News Latino.
After returning to the U.S. in 2012, he was arrested but a Florida judge let him walk free for time served, Valdez soon racked up a string of offenses in the next year, including another drug possession charge, physically abusing the mother of his 2-year-old daughter and a felony armed robbery charge that earned him a GPS tracker.
He purportedly carried out the gold heist in March of 2012, with the GPS tracker showing when Valdez entered the building where the gold was stolen and tracked him for five days after the heist as he peddled the gold to various pawn shops in Miami-Dade County. The tracker monitored him while he bought his girlfriend a 2008 Toyota Yaris, before the signal finally went dead and Valdez disappeared from the map.
He was picked up by local authorities at Belize's border with Guatemala earlier this year, and was held at Hattieville Prison in Belize City before his extradition back to the U.S.