Cuban dissident Oscar Espinosa Chepe, 72, dies in Madrid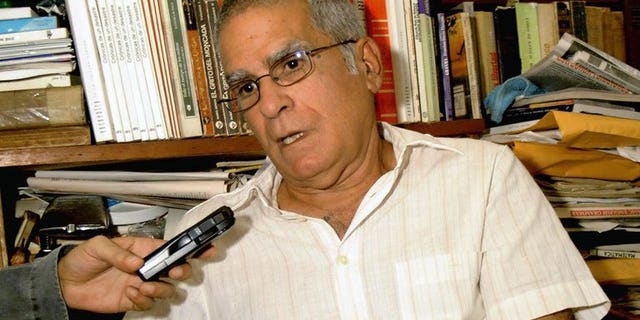 NEWYou can now listen to Fox News articles!
HAVANA (AFP) – Cuban-born economist Oscar Espinosa Chepe, a former member of Havana's revolutionary government who later became a fierce critic, died in exile Monday in Madrid, his widow told AFP.
Espinosa had been in Spain since March to receive medical treatment for a chronic liver ailment, according his wife Miriam Leiva, who said the illness was too far gone to respond to treatment.
"They did everything possible. There was no change" in his condition, she said.
For nearly three decades, Espinosa worked as an economist for Cuba's communist regime, serving in a variety of senior posts, including as a top economic advisor to President Fidel Castro, and later as head of the country's office for agrarian reform.
His views increasingly came to be at odds with the government, however, and he was ousted in 1992 for alleged counter revolutionary activities.
His wife had worked as a diplomat before the couple fell into official disfavor.
In 2003, Espinosa was one of a group of 75 writers and political thinkers rounded up and placed under arrest during the so-called Black Spring.
The arrests garnered worldwide attention from media and rights groups, which appeared to have accelerated their release.
After a trial, he received a prison sentence of 20 years for his dissident activities, but was released after about a year and a half, ostensibly for health reasons.
Espinosa's death has dealt a blow to Cuba's struggling dissident movement, which already is mourning the loss of two of its more prominent figures in recent years.
Cuba's small opposition movement has not yet recovered from the death in 2011 of Laura Pollan, a founder of the Ladies in White dissident group.
Less than a year later, the community was reeling from the demise of Oswaldo Paya, who was killed in a traffic accident that his relatives and backers, suspecting government complicity, say was suspicious in nature.
After being released from prison Chepe moved to a small apartment in Havana, and spent his time writing newspaper articles that appeared in the foreign press.
Over the years he has voiced some praise for economic reforms put in place by Raul Castro, who succeeded his brother Fidel as Cuba's president in 2008.
He also has criticized the reforms -- which have gradually introduced small scale private enterprise in Cuba's strictly controlled command economy -- as too little, too late.
His widow said that she hopes that even after his death, her late husband's work can continue "to contribute to the development of Cuba."