Critics blame incompetence, vendettas as high-profile corruption cases collapse in Mexico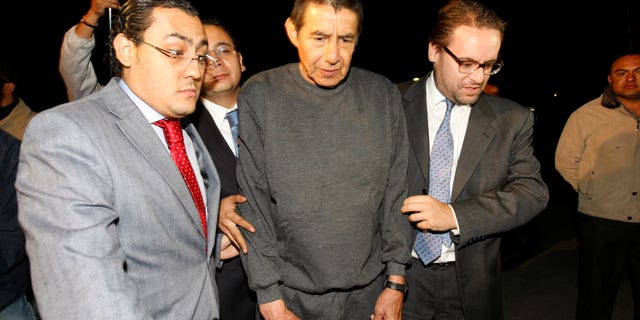 NEWYou can now listen to Fox News articles!
MEXICO CITY – Some of Mexico's most high-profile corruption cases have unraveled recently on thin or made-up evidence, reinforcing long-held notions that the Attorney General's Office is more focused on political vendettas or favors than justice.
Among the cases to collapse or suffer setbacks are those of a former drug czar and a former No. 2 in the Defense Department, both accused of links to drug cartels, as well as corruption proceedings related to a former governor of Coahuila state who saw $3 billion in public funds go missing during his tenure.
Experts say the faulty prosecutions are the product of questionable police work, organizational problems and a justice system dominated by political interests. All three cases began during the government of President Felipe Calderon and were thrown out or quietly shelved during the administration of President Enrique Pena Nieto.
"There is a deficiency in the organization, in the presentation of investigations. There are serious technical flaws," said Javier Oliva, a researcher at the National Autonomous University of Mexico who studies defense and security. "If the question is, 'Why did these cases fail?', it is because they have no legal support."
The first to be freed was former anti-drug czar Noe Ramirez, who was arrested in 2008 in an internal sweep known as "Operation Clean House" on charges that he took $450,000 a month from the Beltran Leyva drug cartel.
Last week, a federal judge in western Nayarit state, where Ramirez had been held at a maximum security prison, ordered his release after determining that the main witness in the case lied and prosecutors might have fabricated evidence.
The case against Ramirez was launched following the arrest of Gerardo Garay, then the country's acting federal police chief, for stealing money from a Mexico City mansion during a drug raid, according to Samuel Gonzalez, who occupied Ramirez's anti-drug post a decade earlier.
Gonzalez said Garay's boss and ally, federal Public Safety Secretary Genaro Garcia Luna, was reportedly incensed by the arrest and demanded that Calderon prosecute someone at the Attorney General's Office in revenge.
"Garcia Luna was the one who demanded that Calderon go after Noe Ramirez, because charges had been brought against Garay, he wanted someone of the same level charged," Gonzalez said.
Two days after Ramirez was freed, retired army Gen. Tomas Angeles Dauahare was also ordered released after the Attorney General's Office dropped the drug corruption case against him because of a lack of evidence.
Angeles Dauahare, a former assistant defense secretary, told The Associated Press that he believes the case against him was also political.
He had openly criticized Calderon's strategy of cracking down on the drug cartels and appeared at a May campaign event for then-candidate Pena Nieto of the Institutional Revolutionary Party. Days after the campaign appearance, he and other senior military leaders were arrested on accusations of helping the Beltran Leyva cartel.
"They tried to destroy everybody who didn't share their opinions," Angeles Dauahare said of the Calerdon government. "The Attorney General's Office was used to carry out this reprisal."
Calderon's conservative National Action Party government had touted the arrests as proof of Mexico's fortitude in fighting internal corruption.
Both men were freed by officials in Pena Nieto's administration after he took office Dec. 1, returning his party returned to power after a 12-year hiatus.
Eduardo Medina Mora, who was attorney general under Calderon and is now its ambassador to the United States, did not respond to requests for comment.
Some say prosecutors erred in largely resting their accusations on the testimony of protected witnesses, without verifying independently if additional evidence existed.
Both Ramirez and Angeles Dauahare were arrested on the testimony of a protected witness known as "Jennifer," a former associate of the Beltran Leyva cartel who is now in the U.S., according to trial documents.
In announcing his decision to absolve Ramirez, the judge said that accounts from people in Mexico's witness-protection program were unreliable.
As the case unfolded, prosecutors scrambled to gather whatever evidence they could against Ramirez, even reportedly calling U.S. agents to see if they had anything on him.
One former U.S. law enforcement official, who couldn't speak on the record for security reasons, said such requests were not uncommon.
Mexican officials "would detain someone and then call us up and say, 'Do you have anything on him?" the former official said. "It was arrest first and ask questions later. This isn't against their law, not out of the ordinary. That's the system."
He agreed with Oliva, the university researcher, that prosecutors lack investigative skills and have difficulty building a case.
Current Attorney General Jesus Murillo Karam told local media that his office will launch an investigation into "Jennifer" and the cases involving the witness' false testimony.
A third case that arose during Calderon's term involved former Coahuila governor and ex-PRI national party chief Humberto Moreira, who resigned as party president in December 2011 because of the $3 billion in state debt racked up during his time as governor.
The corruption case, which could potentially prove embarrassing for the ruling PRI, was aimed at two of Moreira's close associates who were discovered with unexplained wealth, including his state treasurer at the time who is now wanted in the U.S. on money-laundering charges.
The case was quietly dropped by federal prosecutors who turned it over to local prosecutors in Coahuila state, where Moreira's brother is now governor, leading to fears the case will end in impunity.
Authorities didn't announce the decision at the time and it only recently became public that the decision was taken in early December during the first weeks of Pena Nieto's administration.
An Attorney General's Office official, who was not authorized to speak publicly, said he didn't know why federal prosecutors decided they had no jurisdiction in the case.
This week, the Senate committee on justice asked for Mexico's attorney general to answer questions on what his office was investigating in the Coahuila debt scandal if the case against the treasurer had been dropped.
Another case from the Calderon era that concluded with embarrassment was that of an alleged plot to smuggle the son of late Libyan dictator Moammar Gadhafi into Mexico as his regime crumbled.
Calderon's office had bragged about the "careful intelligence work" that dismantled the complex scheme in the months leading up to Mexico's 2012 presidential election.
Suspects Cynthia Vanier of Canada and Gabriela Davila Huerta of Mexico were released from custody last week after three judges determined that much of the evidence against them was collected illegally and that their basic rights were violated.
Murillo, the current attorney general, has said that he inherited a justice department in disarray and is reviewing previous cases as part of a reorganization.
___
Adriana Gomez Licon on Twitter: http://twitter.com/agomezlicon