Court in Uruguay blocks woman from terminating pregnancy at father's request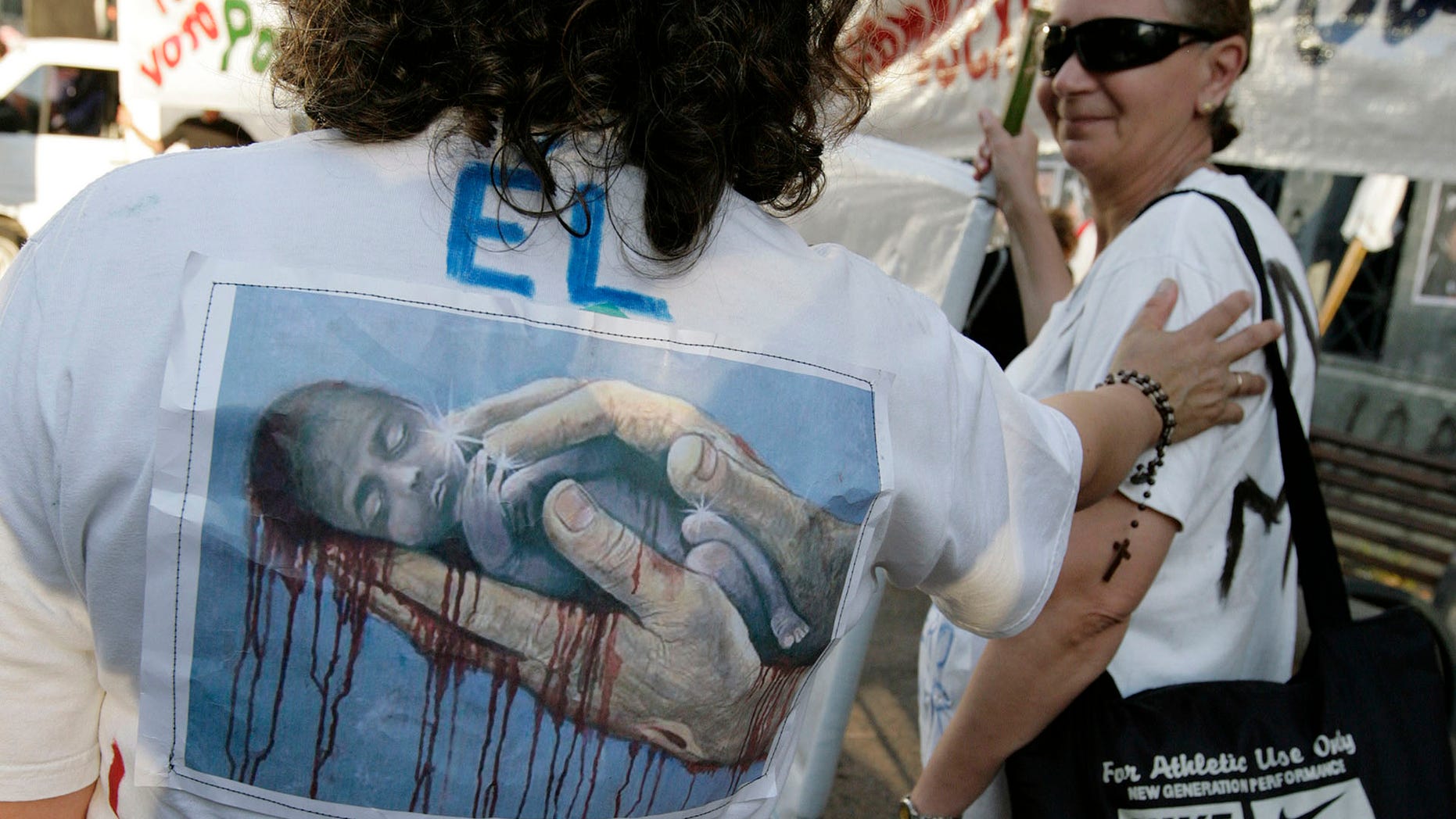 Uruguay is on edge after a court last week blocked a woman from terminating her pregnancy because the father, an ex-boyfriend, wants her to keep the baby and has offered care for it.
The law in Uruguay allows abortions up until the 12th week, which lawyers for the woman say will occur on March 9 (the other part claims the cutoff date is March 3).
According to local news outlets, the woman from Soriano is preparing to file evidence Wednesday of a medical condition in her uterus that prevents her from having a normal pregnancy. She said she found out about the "lesion" during the pregnancy of her now 5-year-old son and had to lay in bed rest for several months.
URUGUAY LOWER HOUSE PASSES LAW TO LEGALIZE ABORTION
"I feel violated, insulted. It's like nobody cares about your life, your decision, what happens to you, what you feel, your [health] condition, and you have to see from the outside how other people, who only care to make a profit, make decision on your life," the woman said.
Uruguay is the only South American country that allows abortions after an approval process that includes a meeting with a medical team and a five-day period of reflection.
The woman, who is 24, said the pregnancy was a result of a six-month relationship that was not steady and that "at no time" had they discussed or planned to be parents.
DUTCH BOAT DOCKS OFF COAST OF GUATEMALA OFFERING ABORTIONS IN INTERNATIONAL WATERS
She told Telenoche, a local newscast, that when she gave him the pregnancy news to the father in January, the man led her to believe that while he would prefer that she kept the baby, he would ultimately respect her decision.
The woman's lawyer Daniel Benavidez said the case is having an impact on the woman's mental health. "My client is very sad for the situation, hurt by what is happening and undergoing psychological treatment. She has the support of the law, she complied with the requirements and now the legislation is being called into question in a judicial process," he said.
ANTI-ABORTION ACTIVISTS, COUNTER-PROTESTERS RALLY AROUND US
Meanwhile, the father's lawyer said he has received numerous threats through social media and social organizations from across the country have announced a rally Saturday in the city of Mercedes to express their support to the woman.