Couple facing 15 years behind bars for having sex on Florida beach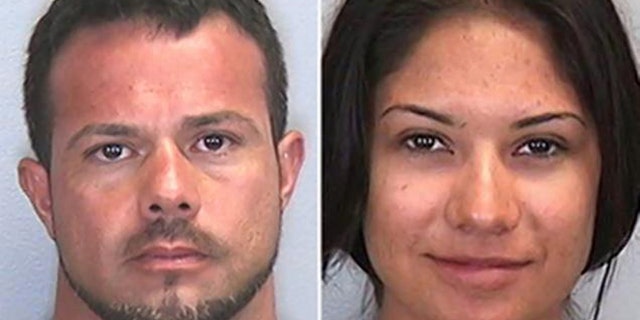 If took only 15 minutes of deliberations before a jury in South Florida handed down a guilty verdict to a couple who got caught getting having sex on a public beach last summer.
Jose Caballero, 40, and Elissa Alvarez, 20, were charged with two counts each of lewd and lascivious behavior for having sex on a public beach July 20, 2014, with the convictions carrying maximum prison sentences of 15 years.
The damning evidence against the canoodling couple was a video shot on a bystander's phone that show Alvarez – in broad daylight – straddling Caballero and moving about in sexual manner on the beach. Witnesses at the one-and-a-half day trial also said that a 3-year old girl saw the pair getting frisky.
While a sentencing date has not been set for the couple – who will also have to register as sex offenders – Assistant State Attorney Anthony Dafonseca said he will push for a tougher sentence for Caballero than his lady friend since he spent almost eight years in prison for a cocaine-trafficking conviction. Dafonseca added that Caballero could serve the maximum 15 years in prison given that he had been out of jail less than three years before committing another felony.
"We gave them a reasonable offer, what we felt was reasonable, and they decided it wasn't something they wanted to accept responsibility for," Dafonseca said, according to The Bradenton Herald. "Despite the video, despite all the witnesses."
The prosecution was also joined by state attorney for the 12th Judicial District Ed Brodsky in an effort to show that dalliances like Caballero and Alvarez's are not acceptable.
"We're dealing with basically tourists, that came from Brandon and Riverview and West Virginia, and they're here on the beaches of Manatee County, our public beaches," Dafonseca said. "So you want to make sure that this isn't something that just goes by the wayside. And that it is well known to the community what will be tolerated and what won't be."
The pair's defense attorney, Jeff Brown, said the possibility of 15 years was outrageous and ridiculous.
"There are burglary cases, there are breaking and entering cases, there's grand theft of automobiles, there's sales and possessions of cocaine, all of these offenses can sometimes get you a sentence that's not involving prison time," Brown said, according to Fox 13 News, adding that probation and misdemeanor charges would have been appropriate.
"The idea that they're looking at prison time for this is like, I'd hate to be one of them in prison and when people say, 'hey what are you in for, and they say having sex," Brown said.
Dafonseca, however, countered that the couple was offered a plea deal but decided not to accept it.
"They took it on," he said. "They felt confident in their right. They are more than welcome to exercise their right, but the jury, it took them 15 minutes so clearly they saw it just like we did."
Like us on Facebook
Follow us on Twitter & Instagram