Costa Rican Woman Describes John Paul Miracle Cure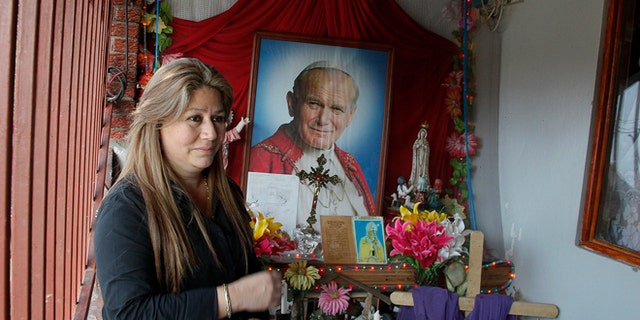 San José, Costa Rica – A woman in Costa Rica described publicly for the first time how her brain aneurysm reportedly disappeared after she prayed to Pope John Paul II, a church-confirmed miracle underlying John Paul's case for sainthood.
The Roman Catholic Church presented 50-year-old Floribeth Mora and her doctor to reporters after Pope Francis approved the miracle needed to canonize John Paul II.
With tears in her eyes, Mora described how she was sent home with pain medicine but no apparent hope for treatment, thinking she was going to die after her 2011 aneurysm diagnosis.
She says a photograph of the pope seemed to speak to her during the deceased pontiff's beatification, and her doctor says the aneurysm disappeared for no apparent reason.
Mora and her family kept silent as they awaited the signing of the papal decree recognizing her story as a miracle. On Friday, accompanied by her husband, doctors and Catholic officials, Mora told gathered reporters that she had gone from believing she was about to die to a state of perfect health.
Mora, who owns a private security business with her husband in the middle-class neighborhood of Dulce Nombre de Tres Rios, said she woke up on April 8, 2011, with a strong headache and went to a hospital in the nearby city of Cartago, where she was diagnosed with a severe migraine.
The pain lasted for three days and Mora returned to the hospital, where a series of tests revealed an aneurysm on the right side of her brain that had begun to hemorrhage, according to her attending physician, Alejandro Vargas.
Doctors were unable to stop the bleeding and Vargas consulted colleagues in other Latin American countries and Spain, who advised against operating because of the difficult access to the affected area.
"The risk for Floribeth was death, or ending up with significant neurological damage," Dr. Vargas said Friday.
"I returned home with the horror of imminent death. Seeing my children walking by looking at me, standing beside my bed, seeing my husband making himself strong, taking my hand and crossing himself every night, it was very sad," Mora said.
Her family built an altar to John Paul II outside her house, and while Mora was watching the late pope's beatification on May 1, 2011, she picked up a magazine and, looking at a photo of the pope, starting to hear a voice.
"It said, 'Get up, don't be afraid,'" Mora said.
Mora said she stood up and felt instantly better, and a variety of medical exams revealed that her aneurysm had simply disappeared.
She showed reporters photos of her brain taken before and after the purported miracle.
After her recovery, Mora wrote her story on a blog dedicated to John Paul, where it was seen by people pushing for the pope's canonization.
Later, she traveled to Rome, where she underwent further exams, and church officials began working to have her recovery classified as a miracle.
Francis will set the date for canonization at an upcoming meeting of cardinals.
Based on reporting by The Associated Press.
Follow us on twitter.com/foxnewslatino
Like us at facebook.com/foxnewslatino