Costa Concordia blonde admits she is in love with Italy shipwreck captain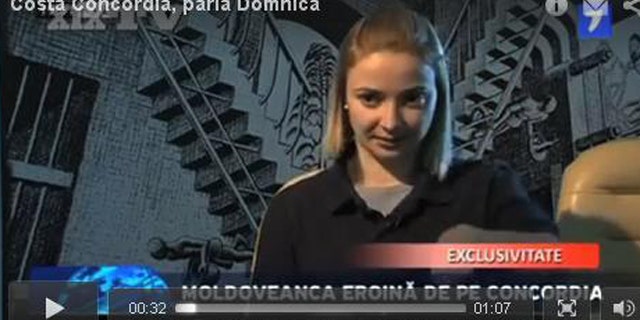 ROME -- The Moldovan blonde spotted with the captain of the shipwrecked Costa Concordia, Francesco Schettino, on the night of the disaster, told Italian investigators she is in love with him, La Stampa reported Thursday.
"Yes, it's true. I am in love with Captain Schettino," Domnica Cemortan, 25, told prosecutors, according to the Italian newspaper.
Cemortan, who has joint Moldovan and Romanian citizenship, previously said she was not Schettino's lover, saying he was faithful to his wife.
She also reportedly told Italian investigators that she was on the bridge as a "guest" of the captain at the time of the crash, despite Schettino claiming that only authorized staff were on the bridge at the time.
Survivors claimed that they saw Cemortan dining and drinking wine with Schettino shortly before the 17-deck vessel ran aground, but she has always denied this in media interviews, calling him a "hero" who "saved lives."
The cruise ship ran aground on rocks Jan. 13 with some 4,200 people aboard and is lying on its side off the Tuscan island of Giglio. A total of 17 bodies were recovered, and 15 people remain missing. Among those missing is the Minnesota couple Jerry and Barbara Heil.
Schettino is under house arrest facing charges of manslaughter and abandoning ship.