Cops in Nevada Seized Drugs, Weapons in Record Bust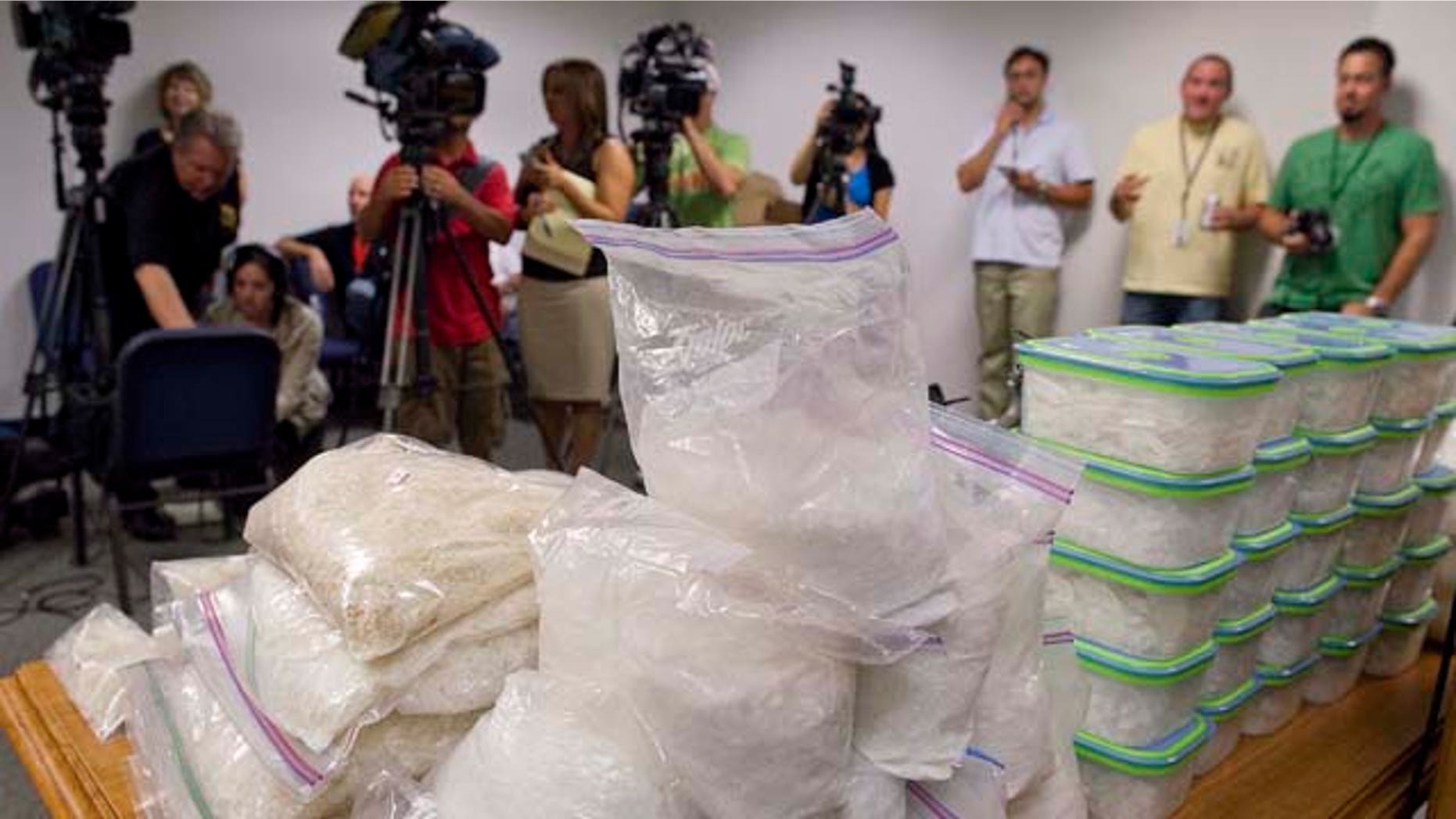 Las Vegas authorities seized a whopping 212 pounds of drugs – including the biggest meth bust in Nevada history.
The high-profile bust snagged drugs worth an estimated street value of $5.7 million. Cops also seized $280,000 in cash, six guns and nine vehicles used for drug trafficking from nine residential homes in Las Vegas and Henderson.
In the process, authorities arrested nine people; eight of the suspects were undocumented immigrants.
Law enforcement officials heralded the record bust as a significant blow to Las Vegas' illegal underground that would be felt by every player, including drug bosses, small-time dealers and users hoping to score on the street.
The raid yielded four pounds of heroin and 208 pounds of methamphetamine in varying stages of processing, from its liquid form to the crystal-like pieces sold on the street in small quantities for consumption.
"There will be a noticeable difference in the amount of drugs on our streets," said Las Vegas police spokesman Jacinto Rivera. In the previous record bust, Las Vegas officials seized 70 pounds of methamphetamine, he said.
In all, nine men and women were arrested in this week's raid, including Mexican nationals Jorge Loza, 26; Armando Lara, 37; Sergio Vieyra-Medrano, 37; Moreliano Zaragoza-Ramos, 26; Félix Román, 27; Salvador Garibo, 27; Cecilia Salgado, 55; and Alejandro Gómez, 31. Mayra Torres, 28, of California was also arrested.
Law enforcement officials said at a press conference Thursday morning that officers had arrested 11 people, but late Thursday Rivera said officers would arrest the two others tied to the operation soon. The men and women all face drug trafficking charges. Torres was released after posting an unknown bail amount and most of the others were due in Las Vegas court Friday morning, Rivera said.
It's unclear how long the undocumented immigrants have been in the United States or how they entered the country. Police said the operation was run by Zaragoza-Ramos, who goes by the name Oscar Cavadas.
"Cavadas has been identified as a high level drug trafficker who distributes pound quantities of methamphetamine throughout the Las Vegas valley," an arrest report states. "Detectives know that Cavadas maintains houses which he stores methamphetamine and utilizes runners to facilitate his narcotics trafficking."
Detectives watched Zaragoza-Ramos deliver a five pound bag of methamphetamine to a Las Vegas customer on June 6. They later learned Zaragoza-Ramos was scheduled to receive a massive shipment of the drug on Tuesday from Torres, who drove in from California.
Police observed Torres leave Zaragoza-Ramos' home Tuesday night. Police soon stopped her and found $270,000 in her car, the money she collected for delivering the shipment, according to an arrest report. In Zaragoza-Ramos' home, police found 40 pounds of methamphetamine in a master bedroom converted into a makeshift drug lab.
The investigation began in January and police officials said they are still trying to determine whether Zaragoza-Ramos has ties to Mexico's brutal drug cartels. The drugs were manufactured in Mexico and smuggled across the border into the United States.
Officers from Las Vegas, North Las Vegas and Boulder City joined officials from the federal Drug Enforcement Administration and the Nevada Highway Patrol in the raid. No law enforcement officials were injured during the searches. Law enforcement officials said they could not reveal what event prompted the investigation because the case remains open.
"You are finding more and more that these drug trafficking organizations are pushing inland," said Paul Rozario, an assistant special agent for the DEA.
If they are ultimately found guilty, the illegal immigrants likely will serve their time in the United States before they are deported, Rivera said.
The seized vehicles had been modified to include several secret compartments to store the drugs. Law enforcement officials said they had not linked the seized guns to any reported violent crimes.
Methamphetamine is the most popular street drug after marijuana, Rozario said. It can be taken orally, snorted, smoked and injected.
"Meth is a huge problem here, as it is across the country," Rozario said.
Based on reporting by The Associated Press.
Follow us on twitter.com/foxnewslatino
Like us at facebook.com/foxnewslatino