Connecticut School Shooting Leaves 6-Year Old Puerto Rican Girl Dead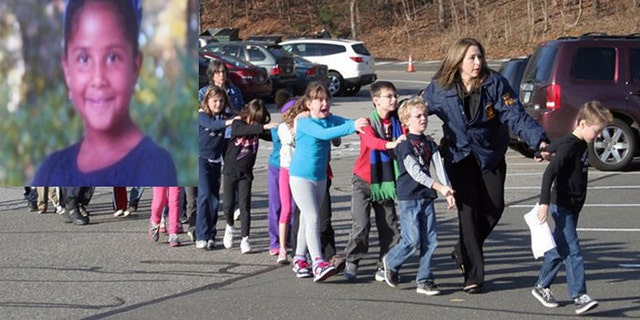 Among the victims of the Connecticut school shooting, which left 27 people dead including 20 children, was a 6-year-old girl related to a mayor in Puerto Rico.
Ana Grace Márquez was among the kids who died in the shooting, her great uncle told El Nuevo Dia in San Juan.
"She was about to turn 7," Maunabo Mayor Jorge Márquez told the daily. Márquez's sister was Ana Grace's grandmother.
The grandmother was apparently devastated over the news of the killing.
"This is something so terrible," he said. "Our family is very close and we've been waiting for news all day today. We were hoping she was just injured, but her parents just called us about the news. There is no going back."
Police say 20-year-old Adam Lanza opened fire Friday inside two classrooms at the Connecticut elementary school where his mother worked as a teacher, killing 26 people, including 20 children, as the youngsters cowered in corners and closets and trembled helplessly to the sound of gunfire reverberating through the building. His mother, Nancy Lanza, was also killed by Lanza, authorities said.
Lanza, armed with two handguns, committed suicide at the school and another person was found dead at a second scene, bringing the toll to 28, authorities said.
Police shed no light on the motive for the attack.
The rampage, coming less than two weeks before Christmas, was the nation's second-deadliest school shooting, exceeded only by the Virginia Tech massacre that left 33 people dead in 2007.
Panicked parents looking for their children raced to Sandy Hook Elementary School in Newtown, a community of about 27,000 residents 60 miles northeast of New York City.
Schoolchildren — some crying, others looking frightened — were escorted through a parking lot in a line, hands on each other's shoulders.
"Our hearts are broken today," a tearful President Barack Obama, struggling to maintain composure, said at the White House. He called for "meaningful action" to prevent such shootings.
With reporting from The Associated Press.
Follow us on twitter.com/foxnewslatino
Like us at facebook.com/foxnewslatino