Connecticut Paper Uses Google Translate for Spanish Section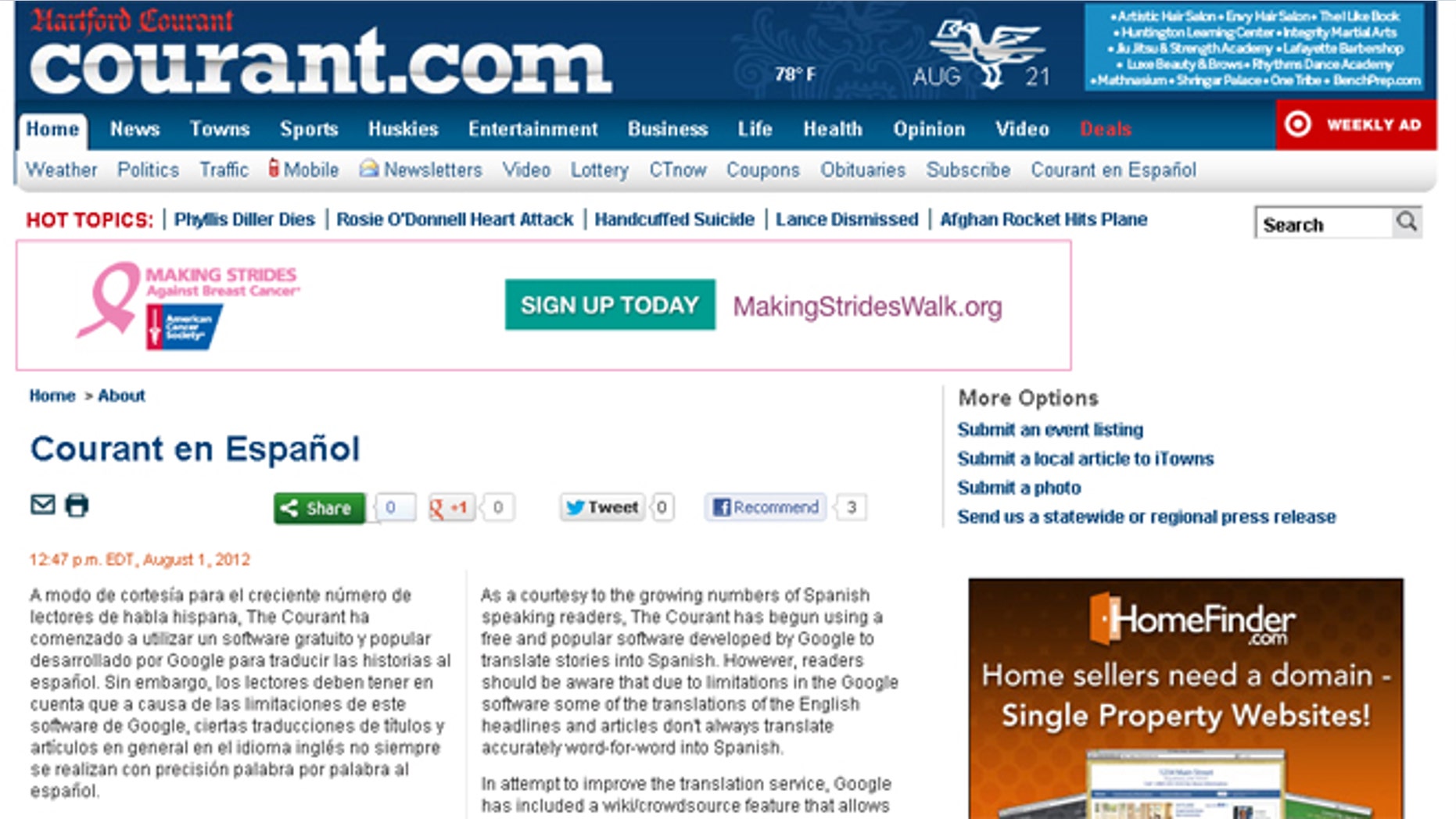 The growing Hispanic population in the U.S. has led many news organizations to recognize the increasing need for Spanish-language media in the country. Many media outlets – including this one - now have dedicated Spanish-language sections to appeal to the U.S.'s burgeoning Latino population.
One newspaper in Connecticut took a bit of a shortcut when putting together their own "Español" section.
Instead of hiring a professional translator to write and translate articles in Spanish, the Hartford Courant's Spanish-language section - "Courant en Español" – is simply a version of their homepage run through Google Translate.
"The limitations of this approach are immediately apparent to Spanish-speakers," wrote Andrew Beaujon of the Poynter Institute.
In a blog post on Poynter's website, Beaujon cited an opinion piece written by Bessy Reyna, a former columnist at the Hartford Courant, who gave examples where Google Translate switched people's genders mid-paragraph and used literal translations that muddled and confused sentences.
"The "Odd" process to choose the Chief of Police, also editorialized, was translated as 'Proceso de Odd por elegir un jefe de la policía' (It probably refers to the "unusual" process to select the chief but seems to imply that Odd is a name.)," Reyna wrote for CTLatinoNews. "I will stop now because I would like to give our readers an opportunity to discover the hidden vines climbing the trees of the so-called Spanish language, being offered to us by the Courant."
Earlier this month, the Courant posted a disclaimer on its Spanish section, where the paper acknowledged some of the limitations of Google Translate and said that the search engine has enabled a wiki/crowdsource feature that allows users to implement better English translations for each article.
"In attempt to improve the translation service, Google has included a wiki/crowdsource feature that allows bi-lingual users to write better English translations for each article," The Courant wrote. "Simply hover over a story with your cursor, enter the translation and help write a better English to Spanish translation."
The newspaper's website goes to provide a link to the Google-translated sight for visitors who want to continue reading.
Neither the Hartford Courant nor its parent company, Tribune, returned calls for comment by the time of publication. The Courant is the largest daily newspaper in Connecticut and considered by some to be the oldest continuously-published newspaper in the United States, starting production in 1764.
It was bought by the Tribune company in 2000.
Latinos, especially Puerto Ricans, make up a large portion of Hartford's population. About 43.4 percent of the city's population is Hispanics, compared to just 13.4 percent of Connecticut's total population, according to 2010 Census figures.
"I am glad to report that the Courant has decided to open that tab with a 'Disclaimer' in order to make readers aware that due to limitations in the Google software," Reyna wrote in another op-ed. "I still think that if the Courant wants to truly offer a product that provides information to  their Spanish-speaking readership about their community, they could at least hire someone to translate the translator. The guessing game (trying to figure out what the Spanish translation means) is painful and time consuming."
Follow us on twitter.com/foxnewslatino
Like us at facebook.com/foxnewslatino