Connecticut DMV chief blames delays on influx of undocumented immigrants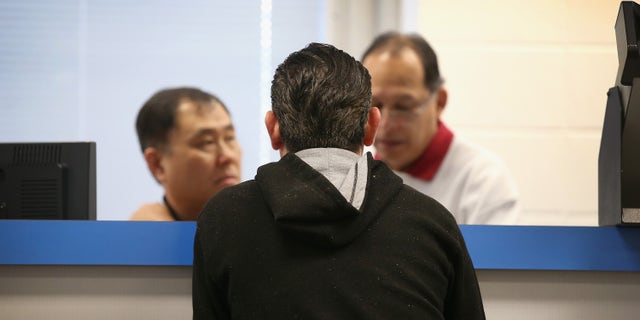 NEWYou can now listen to Fox News articles!
WETHERSFIELD (FoxCT.com) – Connecticut's commissioner of the Department of Motor Vehicles has acknowledged that an influx of undocumented immigrants looking for licenses has led to long waiting times for permit and driver's license tests.
Commissioner Andres Ayala said the delays are the result of a 2013 law allowing undocumented immigrants to obtain "driving only" licenses and insurance.
"There is a delay," Ayala said. "Anyone who wants to get an appointment right now is looking at anywhere between mid-September to October."
Connecticut's Office of Fiscal Analysis predicted that 54,000 undocumented immigrants would seek licenses over three years. The DMV has dealt with around 50,000 in just one year, Ayala said.
This comes nearly two weeks after a DMV email, signed off on by Ayala, falsely told driving school owners that undocumented immigrants were not the cause of delays and that they should "refrain" from telling that to parents and students.
"The majority of these complaints are from parents of your students who claim a representative of the school told them the reason for the extended wait times is because we also schedule appointments for applicants who are not legally present in the United States. Please refrain from telling parents and/or students that this is the reason for the wait times for appointments," the email stated.
Ayala has since apologized for the email.
"The email was a mistake. It shouldn't have happened," he said. "I take full responsibility for the email going out,"
On Wednesday, House Minority Leader Republican Themis Klarides sent a letter to Ayala asking what is being done about the issue.
"I understand the challenges in attempting to serve a much larger pool of clients. However, our constituents are now telling us that in many instances that have been unable to obtain basic information from their branch offices," she wrote.
Ayala said his department is doing everything it its power to decrease the delays. He also said there will be 131,000 appointment slots open for Connecticut residents during the remainder of this year and roughly 50,000 for undocumented immigrants.
"We have 63 agencies that are available to do the testing that we need to do," Ayala said. "And I must tell you, they're all working hard, day in and day out, to process folks and take care of these services."
For more news, visit FoxCT.com.