Colombian rebels reject conditions for resuming peace talks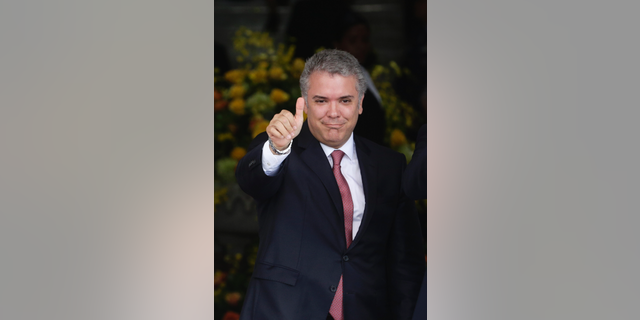 BOGOTA, Colombia – Prospects for the resumption of peace talks between Colombia's government and the country's last remaining rebel group were dimming Monday even as the group reaffirmed its willingness to release six captives.
The National Liberation Army said it was willing to "liberate" a group of policemen and civilians it captured in August. But the rebels also accused President Ivan Duque of breaking promises made by his predecessor and said they will not accept his "unilateral" conditions for the negotiations.
Duque suspended peace talks with the rebel group, known as the ELN after its Spanish initials, after he was sworn into office a month ago, saying he would not resume negotiations until the rebels ceased all criminal activities, including kidnappings and attacks on oil pipelines.
The ELN has said it will only cease attacks if the government stops pursuing its fighters in remote pockets of Colombia's countryside and agrees to a bilateral ceasefire.
"We are ready to continue working toward a political solution," Israel Ramirez, the rebels' lead negotiator told Colombian newspaper El Pais Sunday. "But both sides have to make efforts to turn the page of war, not just one."
The ELN was created in 1964 by a group of Catholic priests and activists inspired by the Cuban revolution. It has approximately 1,500 fighters and it became the country's last remaining guerrilla group after the Revolutionary Armed Forces of Colombia, or FARC, signed a peace deal in 2016.
In February 2017, Colombia's government began peace talks with the ELN that have yielded few commitments so far. The talks were suspended at the beginning of this year after the rebel group broke a bilateral ceasefire that had lasted for three months, but they resumed in May even while fighting between the government and the ELN continued.
During his inauguration speech in August, Duque said he would take 30 days to review the negotiations and would not restart until the rebels ceased "all criminal activities."
According to Colombia's government, ELN rebels have kidnapped 16 people and conducted more than 140 attacks against the country's oil infrastructure since peace talks started in 2017.
Colombian Peace Commissioner Miguel Ceballos said Monday that the ELN's plans to release six captives was "important" but the rebel group still did not meet "the basic conditions" required to restart peace talks. Ceballos said the rebels still have 10 more captives.
"They are accusing us of making unacceptable demands," Ceballos told Colombia's Blu Radio. "But we are only asking them to abide by the law."
As peace talks with the ELN fail to resume, the implementation of the 2016 peace deal with the FARC is also facing difficulties.
Last week the United Nations said six FARC leaders had abandoned their transition camps in Colombia and left up to 1,500 former guerrilla fighters without a leader, breaking with commitments made under the peace accords.
On Monday, Fabian Ramirez, one of the FARC leaders who was reported as missing, sent a letter to Colombia's senate in which he acknowledged that he had left his transition camp, but said he was still committed to the peace process and was doing political work with remote communities.
The whereabouts of Luciano Marin, the FARC's lead negotiator during peace talks, are still unknown. Marin gave up a senate seat granted to him by the peace deal and fled to a remote area of Southern Colombia after one of his close allies was arrested on drug trafficking charges on a U.S. warrant.