Colombian rebel leader shies away from meeting 6-month deadline for signing peace deal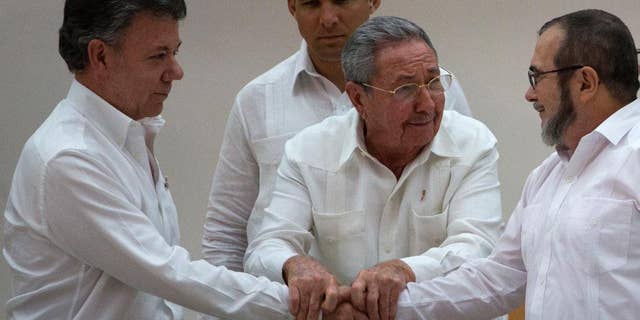 BOGOTA, Colombia – The leader of the Revolutionary Armed Forces of Colombia is shying away from a six-month deadline to sign an agreement to end a half-century of fighting.
In an interview being broadcast Tuesday by Venezuelan network Telesur, the rebel known as Timochenko says negotiators may take more or less time to reach a deal despite assurances by President Juan Manuel Santos that an accord would be ready by March.
The interview from Cuba is Timochenko's first since peace talks began three years ago and comes a week after a breakthrough in talks resolving the thorny issue of punishment for war crimes.
In excerpts of the interview Timochenko says not a single guerrilla is opposed to a deal despite speculation some of the FARC's 6,500 fighters could defy orders to disarm.