Colombia President Orders Militarization Of Bogotá, Calls Troops To Contain Unrest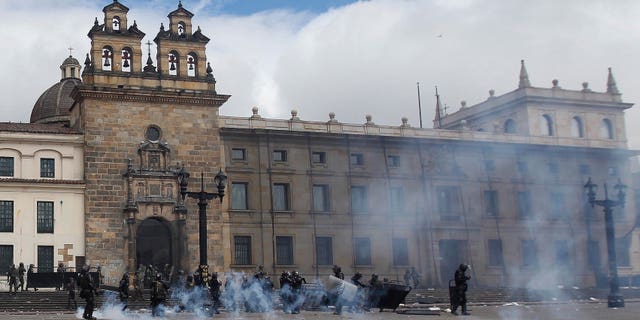 Following Thursday's riots in which at least two people died in Bogotá, President Juan Manuel Santos has ordered troops to patrol the capital "to assure normality."
He did not say how many troops would be involved or the measure's duration. City officials said police would continue to be in charge of maintaining order, with no suspension of civil liberties.
Violence broke out after some 30,000 university students and others marched peacefully in support of a 10-day protest by small farmers.
Masked youths began hurling rocks and bricks and fought tear gas-firing riot police, shattering store windows. At least two people were reported killed in what became Bogotá's worst street violence since March 2012, when protesets against the city's troubled municipal bus system were blighted by young vandals.
"We are not going to permit the excesses of a bunch of misfits to affect the tranquility of citizens." Santos said.
The two deaths occurred Thursday night in two towns just west of Bogotá: Suba and Engativa. Two men, aged 18 and 24, were killed by gunfire in circumstances not yet clear, said Alfonso Jaramillo, security chief for the capital, a city of 8 million.
The president also said 50,000 military personnel would help police along highways that small farmers and truckers demanding lower fertilizer and gas prices have intermittently blockaded.
Santos also said Air Force planes and guarded convoys would be available to ferry supplies to any cities affected by shortages because of the blockades.
Thursday's clashes occurred just hours after Santos acknowledged in a nationwide TV address that "a storm" is battering Colombia's agricultural sector and promised remedies.
He opened talks with the protesting farmers Tuesday and on Thursday promised them remedies including erasing import tariffs on fertilizer.
The unrest comes in the midst of peace talks in Cuba between the government and Colombia's main leftist rebel group to end a half-century-old conflict that largely affects remote provinces far from the capital.
Authorities said they believed leftist militants could have been involved in Thursday's unrest in the capital.
Based on reporting by The Associated Press.
Follow us on twitter.com/foxnewslatino
Like us at facebook.com/foxnewslatino