Colombia and FARC rebel group ask U.N. to monitor disarmament process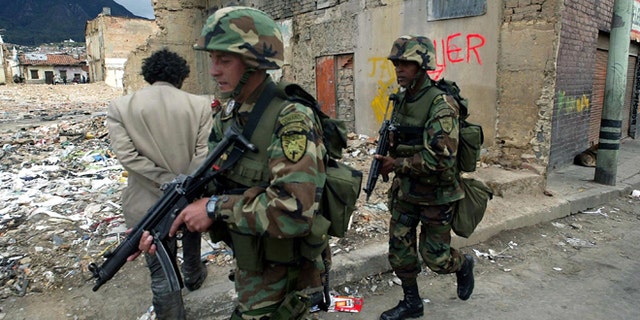 HAVANA (AP) – Colombia's government and the country's largest rebel group marked another milestone in their rapidly advancing peace talks Tuesday, jointly requesting that the United Nations establish an international observer mission to monitor a disarmament process that could end in a matter of weeks Latin America's longest-running guerrilla conflict.
Negotiators for the two sides announced at peace talks in Havana that the 12-month mission would be made up of unarmed observers from Latin American and Caribbean nations. It would monitor adherence to an eventual bilateral cease-fire and resolve disputes that emerge from the expected demobilization of some 7,000 fighters belonging to the Revolutionary Armed Forces of Colombia.
A formula for the rebels' demobilization and handing over of their weapons remains to be negotiated.
But in calling on the U.N. to begin preparing for the observers' deployment, analysts say both sides are signaling that a March deadline to wrap up talks, which some had viewed as overly optimistic, could be within reach.
"Today's announcement isn't only the start of an international process, it's the unequivocal demonstration of our desire to end confrontation," said lead government negotiator Humberto de la Calle.
De la Calle emphasized that the international makeup of the observation mission should satisfy concerns of Colombians who worry the FARC won't sincerely disarm and will continue its involvement in drug-trafficking and extortion of rural communities after a peace deal is signed.
"We're not thinking of masking a fictitious cease-fire, just to get things done," said de la Calle.