College students with undocumented parents file suit claiming S.C. denying scholarships, in-state tuition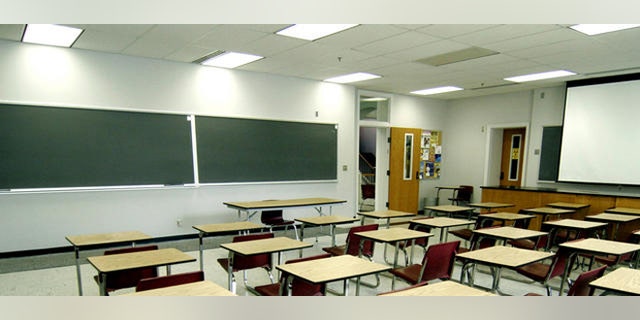 NEWYou can now listen to Fox News articles!
COLUMBIA, S.C. (AP) – Aspiring college students who are legal U.S. citizens but can't prove their parents are in the country legally have sued South Carolina officials, saying the state is unconstitutionally denying college scholarships and forcing them to pay out of state-tuition even though they've lived in the state for years.
The lawsuit, filed Monday in Charleston, challenges state regulations that classify would-be college students as non-residents — even if they were born and raised in South Carolina — if they can't prove their parents are in the country legally. The lawsuit seeks class-action status for an estimated 170 citizen children of unauthorized immigrants who seek to enroll in college in South Carolina each year.
Attorney Michelle Lapointe with the Southern Poverty Law Center said Tuesday the regulations often make it impossible for talented, high-achieving citizens to afford college, as the out-of-state rate can be triple the cost of in-state tuition. Non-residents also cannot receive lottery-backed state scholarships, need-based grants or tuition assistance.
A similar tuition policy in Florida was overturned by a federal judge in 2011 after the law center sued there. Lapointe knew of no other state enforcing such a policy.
"South Carolina is shutting the door on these students obtaining higher education," Lapointe said. "The state is losing out on talented students remaining in the state and contributing to the economy of South Carolina."
The suit stems from how Commission on Higher Education regulations determine the residency of students who aren't living independently on their own income. For tuition purposes, the residency of such dependent children is based on the status of their parents or legal guardian.
The lawsuit's three named plaintiffs are South Carolina high school graduates who have lived in the state between 10 and 19 years.
Sued are the executive director and each board member of the commission, as well as College of Charleston President Glenn McConnell and Trident Technical College President Mary Thornley.
Alan Velasquez, who graduated last June from Trident Baptist Academy, had hoped to start classes this fall at the technical college in North Charleston, where he's lived for 17 years with his mother. A member of the South Carolina Air National Guard, Velasquez wants to eventually become an oncologist.
But if Velasquez must pay out-of-state rates, which add about $3,500 to yearly tuition at Trident, he will not be able to attend college full-time and may have to forego college entirely, the lawsuit says.
Thornley said Trident "would like to accept all students and assist them in receiving financial aid," but the public school has no choice but to fully comply with state law and regulations.
Antonio Rojas Rodriguez, who graduated last week from Stratford High School in Summerville with a 3.3 GPA, wants to major in business at the College of Charleston.
"It came as a complete shock. I had no idea anything like this existed," he said about being told by college admissions staff he would have to pay out-of-state rates without help from the LIFE Scholarship for which he qualifies.
If the ruling stands, he said, he can't afford to attend college. At the College of Charleston, in-state tuition costs $10,558 yearly, compared to the out-of-state rate of $27,548.
"It was a let-down," said Rodriguez, who was born in Mississippi and has lived in South Carolina with his mother for a decade. He said he's heard for years to "'work hard, do what's right, and you will have opportunities.' I feel I did that. I did my best. ... We're not trying to bring trouble. We just want what we worked for."
A spokesman for McConnell said he doesn't comment on pending legal matters. The commission's director did not immediately return messages.
Like us on Facebook
Follow us on Twitter & Instagram