Cold War Redux: Russian Intelligence-Gathering Ship Docks In Havana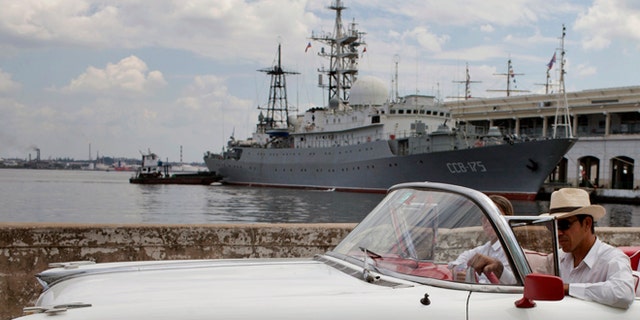 HAVANA (AP) – A Russian warship was docked in the Havana harbor on Thursday, a day after the country's defense minister announced plans to expand Russia's worldwide military presence.
The Viktor Leonov CCB-175 - one of the fleet's Vishnya-class ships, which are generally used for intelligence gathering - drew looks from curious residents as it sat tied up at the cruise terminal in Old Havana. Both Russian and Cuban flags fluttered from its guy wires.
Cuban official media made no immediate mention of its port call.
Locals shrugged at the ship's appearance, as well as Moscow's announcement Wednesday that it was seeking permission for naval vessels to use ports in Cuba and other countries in Latin America, Asia and elsewhere.
"I think every country has the right to live the way they want to live and defend themselves," said Armando Torres, a 54-year-old cook who passed by the ship on his way to work in the morning. "We are a country that has always been oppressed and blockaded for so many years."
Cuba and the Soviet Union had close military and economic ties during the Cold War, but the relationship faded after the fall of the Iron Curtain.
The CCB-175 boat is reportedly equipped with sophisticated electronic surveillance gear along with ship-to-air missiles and 30mm anti-aircraft guns.
Follow us on twitter.com/foxnewslatino
Like us at facebook.com/foxnewslatino