Cleveland's Block Of Horrors? Ariel Castro's Neighbor Pleads Not Guilty To 1990s Murders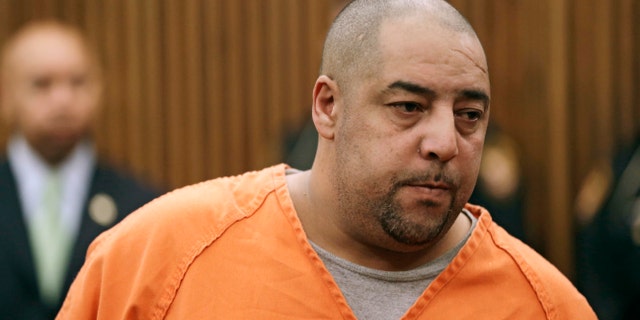 Cleveland – A Cleveland man who is a convicted sex offender has pleaded not guilty to nearly 300 counts including aggravated murder and rape charges that date back to the mid-1990s.
Elias Acevedo appeared in court Monday, and a Cuyahoga County judge set his bond at $5 million.
Authorities in Cleveland have been looking into the disappearances of women in the city following the escape of three women held captive for a decade in a home owned by Ariel Castro.
The 49-year-old Acevedo is accused in the death of his 30-year-old neighbor, Pamela Pemberton, found strangled in 1994, and another woman believed to be Christina Adkins, who disappeared in 1995. According to Reuters, he also is charged with the rape of two young girls.
Authorities last week identified human remains found in Cleveland as those of Adkins, who was pregnant and 18 when she disappeared.
"Because the public became more aware and investigators were determined and relentless, people were re-interviewed and there was an increased interest in these missing person cases," FBI spokeswoman Vicki Anderson told The Associated Press.
Acevedo, who lived on the same block as Castro, was arrested in June at his Seymour Avenue residence after police questioned Castro's neighbors and discovered that Acevedo was a convicted sex offender who had failed to report his current address.
Acevedo became a suspect in the Adkins and Pemberton murders after the FBI re-examined the disappearance of other missing women from the Seymour Avenue neighborhood in the aftermath of Castro's arrest, according to a statement from the Cuyahoga County prosecutor's office.
Cleveland's Seymour Avenue garnered international attention after three women -Michelle Knight, Amanda Berry and Gina DeJesus - were found with Berry's 6-year-old daughter in a dilapidated home owned by 53-year-old Castro. The women had been missing for about a decade - Castro had fathered the child.
While incarcerated, Acevedo's DNA was linked to a 1993 rape that occurred near the location where Pemberton's body was found. The FBI then linked Acevedo to the 1995 disappearance of Adkins, last seen in the vicinity of Seymour Avenue.
Acevedo has confessed to the murders, which means authorities will not seek the death penalty, according to Joe Frolik, spokesman for the Cuyahoga Countyprosecutor's office.
Acevedo led authorities to a spot near a highway where he had put Adkins' body in a manhole 18 years ago, according to the FBI and prosecutors.
The Cuyahoga County Medical Examiner's Office is in the process of positively identifying what are believed to be Adkins' remains after her identification card was found nearby.
Castro pleaded guilty to 937 charges and was found hanged in his prison cell just a month into a life sentence. His death was ruled a suicide by the Franklin County coroner but an investigation into his death by prison officials has called into question whether he died accidentally while performing a sex act.
The indictment against Acevedo includes 115 kidnapping charges and more than 173 charges of rape involving Adkins, Pemberton and the repeated rapes over a period of months of two girls, starting when they were 8 and 11 years old. He was also charged in the 1993 rape of his brother's common-law wife.
"It is definitely bittersweet, you hate to give this news to the family but you hope it give them some closure," Anderson said.
Acevedo is scheduled to be arraigned in Cuyahoga County Common Pleas court Monday. He has not yet been assigned a lawyer, according to court documents.
Based on reporting by The Associated Press and Reuters.
Follow us on twitter.com/foxnewslatino
Like us at facebook.com/foxnewslatino