City of Orlando mulling purchase of Pulse nightclub to turn it into memorial site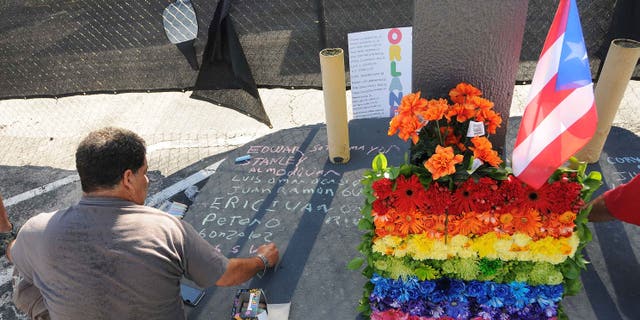 NEWYou can now listen to Fox News articles!
ORLANDO, Fla. – A spokesperson with the City of Orlando says the city has had exploratory discussions with the owners of Pulse Nightclub about the future of the site.
There has been much speculation over whether the site of one of the deadliest mass shootings in America should be a memorial to those killed on morning of June 12.
The city has recently expressed an interest in acquiring the property, but no details about a permanent memorial have been discussed.
"If the City and the property owners jointly agree it is in the best interest of the community that the City acquires the property, then the City will move forward with that public process to do so," said Cassandra Anne Lafser, spokesperson for Orlando Mayor Buddy Dyer.
"At this time, there are no further details."
The Orlando Sentinel reported that Mayor Dyer mentioned the city's interest during a radio interview that aired Wednesday.
Dyer said he'd like the gay nightclub to remain in its current state for the near future, continuing to act as a temporary memorial as people come from around the world to pay their respects.
FOX 35 obtained paperwork last week that indicated that the site of the Pulse Nightclub shooting could be turned into a permanent Orlando memorial.
OnePulse Foundation, a 501(c)(3) incorporated by the owners of Pulse Nightclub and established to provide assistance to the victims of the mass shooting, filed the paperwork with the State of Florida earlier this month.
Forty-nine people were killed and dozens more injured when a gunman opened fire at the club. The shooter, Omar Mateen, was killed by police. He pledged allegiance to the Islamic State.
Through its social media, OnePulse Foundation says the permanent memorial is meant to provide "a sanctuary of hope dedicated to the lives affected and taken by the tragedy."
Fore more Orlando news go to fox35orlando.com
Like us on Facebook
Follow us on Twitter & Instagram