Chinese warship warned USS Decatur it would 'suffer consequences' during near-collision in South China Sea
NEWYou can now listen to Fox News articles!
A Chinese destroyer that closed to within 45 yards of a U.S. Navy ship during a September mission in the South China Sea reportedly warned the American vessel it would "suffer consequences" if it didn't redirect its course.
The People's Republic of China destroyer Luoyang delivered the message to the USS Decatur during their September 30 showdown near Gaven Reefs, the South China Morning Post reported Sunday, citing the British Ministry of Defence's transcript of the incident.
"You are on [sic] dangerous course," the Chinese warship warned. "If you don't change course your [sic] will suffer consequences."
The USS Decatur responded: "We are conducting innocent passage."
Stunning video of the incident shows just how close the Chinese destroyer got to the USS Decatur. One official on the U.S. vessel could be heard saying the Chinese ship was "trying to push us out of the way," according to the South China Morning Post.
The destroyer conducted "an unsafe and unprofessional maneuver," U.S. Pacific Fleet spokesman Lt. Cmdr. Tim Gorman said of the incident in October. He added the Chinese ship conducted a series of increasingly aggressive maneuvers that were accompanied by warnings urging the Decatur to depart.
The USS Decatur, a guided-missile destroyer, was conducting a freedom of navigation operation in the South China Sea, a U.S. defense official told Fox News in a statement. The operation was conducted to "uphold the rights and freedoms of all states under international law. Decatur sailed within 12 nautical miles of Gaven and Johnson Reefs in the Spratly Islands," the official said.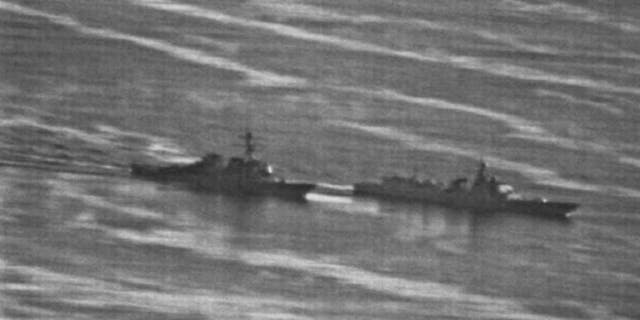 China claims the rights to most of the strategic waterway and has built man-made islands on reefs and equipped them with airstrips, radar domes and missile systems.
China opposed the U.S. warship's entry into the waters around the reefs, the Chinese Defense Ministry said in a statement Tuesday. Chinese officials confirmed it sent the Luoyang to drive the USS Decatur away and urged the U.S. to stop its "provocative" actions.