Chinese blind activist warns Beijing against suppressing human rights, saying it will backfire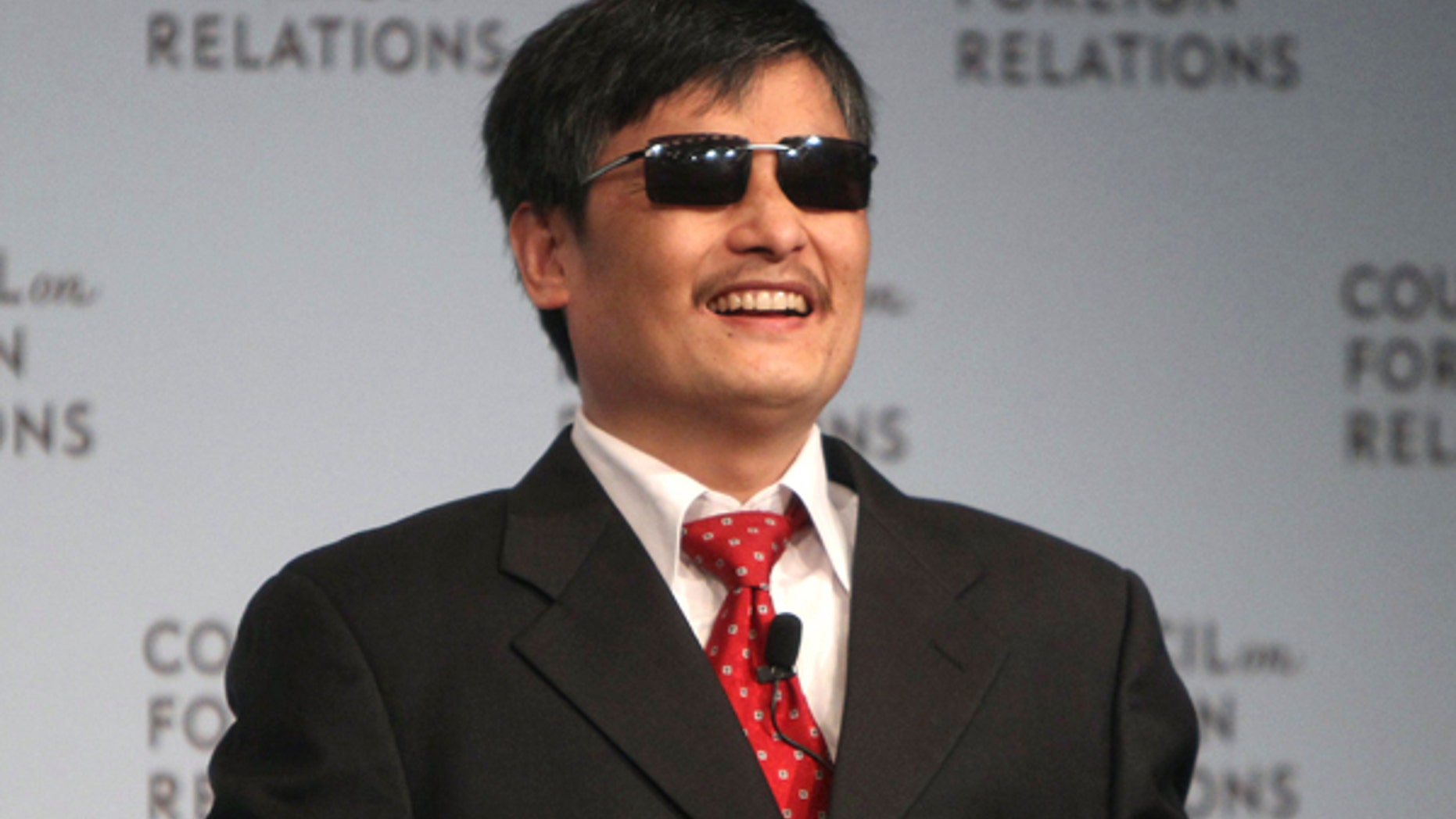 TAIPEI, Taiwan – Activist Chen Guangcheng has made a stern warning to Chinese leaders, saying their efforts to crush opposition forces or suppress human rights will only backfire.
Chen said Monday he is convinced that the rapidly growing yearnings for freedom and human rights among the Chinese will eventually "put an end to the authoritarian rule" in China.
Chen accused Beijing of spending billions of dollars annually to monitor dissidents and activists and put them in jail if they refused to stop their advocacies.
"No other regimes in the world have feared or monitored their own people in such a way," Chen said.
Upon his arrival in Taiwan Sunday, Chen had told reporters at Taipei's airport that he was impressed with Taiwan's democracy and its concern for China's human rights situation. "Your support has been very important to us," he said.
The 18-day trip is part of Chen's efforts to enhance freedoms and human rights for his fellow Chinese, the organizer, the Taiwan Association for China Human Rights, said in a statement.
Chen sparked a diplomatic crisis between China and the United States last year when he fled to the U.S. Embassy in Beijing from house arrest. Since then, he has been a special student at New York University's U.S.-Asia Law Institute while working on a book due out this year.
Chen's Taiwan visit offers a challenge to Taiwanese President Ma Ying-jeou, who has built his administration around better relations with China, from which Taiwan split amid civil war in 1949.
China claims Taiwan as its territory and resents any Taiwanese activity that embarrasses Beijing.
The island has one of the most vibrant democracies in Asia, but Ma is also trying to improve relations with Beijing.
The presidential office said Ma has not scheduled a meeting with Chen.
Chen is scheduled to give a news conference, address the island's legislature, meet parliamentary Speaker Wang Jin-pyng and speak at universities, organizers said.
Chen escaped house arrest in his rural town in eastern China's Shandong province in April 2012. Chinese officials later let him move to the U.S. with his wife and children in an arrangement negotiated with the United States.
He had angered local Chinese officials by documenting complaints about forced abortions. A self-taught lawyer, Chen has criticized China's human rights record, speaking about it before a U.S. congressional committee.
Chen caused a controversy earlier this month when he accused New York University of bowing to pressure from the Chinese government and forcing him to leave.
The university denied that, and said it had offered him a one-year fellowship to help him leave China, and that it was concluding at the end of the academic year as planned. Chen evaded questions about his criticism of NYU Monday.