China's Xi declares US trip a 'full success' as Biden announces film deal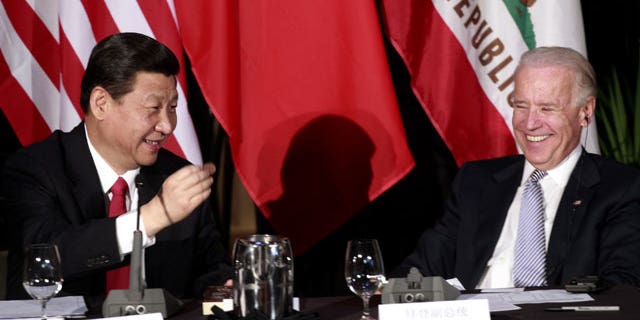 LOS ANGELES – China's Vice President Xi Jinping declared his U.S. visit a "full success" Friday as he wrapped up a five-day tour that has offered rare insights into his personality and past, but few indications of how they might affect bilateral ties after he takes over as China's top leader in the fall.
In the last of several clear attempts to improve the dour public image of Communist Party leaders, Xi attended part of a Los Angeles Lakers basketball game before heading on to Europe late Friday night.
Earlier in the day, Xi told students at a Los Angeles high school that he liked to watch baseball and American football as well as the NBA, and said of his work-life balance, "To quote an American film, it's like 'Mission Impossible.'"
"I can now say my visit to the United States has been a full success," he told the students after watching some of them perform a traditional Chinese dragon dance.
Vice President Joe Biden, who joined Xi for the Los Angeles leg of his visit, complimented him on his efforts to reach out to the American people, and stressed the importance of personal ties in the relationship between the world's two largest economies over the next decade.
"He is, like me, trying to understand the other man's position. You can't ask for much more than that," Biden said at the high school.
Xi's relative candor and self-assured demeanor have come as a stark contrast with the man he is expected to succeed, current President Hu Jintao, who has often seemed awkward in public and struggled to strike a personal rapport with foreign or domestic audiences.
Biden did announce late Friday that China and the U.S. had reached a deal that would "significantly increase" market access for U.S. films in the China market. While details were sketchy, his office said the deal would allow for more exports to China of 3D, IMAX, and other "enhanced format movies on favorable commercial terms."
Biden's office also said the deal "strengthens the opportunities to distribute films through private enterprises rather than the state film monopoly, and ensures fairer compensation levels for U.S. films distributed by Chinese state-owned enterprises."
To read more on this story, see The Wall St. Journal article here.