China criticizes street protests over arbitration ruling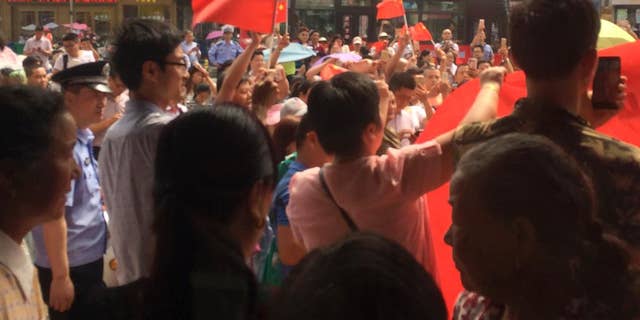 NEWYou can now listen to Fox News articles!
BEIJING – China's state media is criticizing scattered street protests by young people angry over an international tribunal's ruling last week that denied Beijing's claim to virtually the entire South China Sea.
Over recent days, protesters have gathered outside KFC restaurants in several cities, unfurling banners and calling for a boycott of the U.S. chain.
The official China Daily said Wednesday such actions interfered with legitimate business and humiliate customers by accusing them of being unpatriotic. It said that while such random acts are an expression of patriotism, in the end they "do a disservice to the spirit of devotion to the nation." The editorial echoed one Tuesday in the Communist Party newspaper People's Daily.
China generally forbids most forms of protest, but is also wary of being accused of stifling patriotism.