China building 'great wall of sand' in contested waters, US official says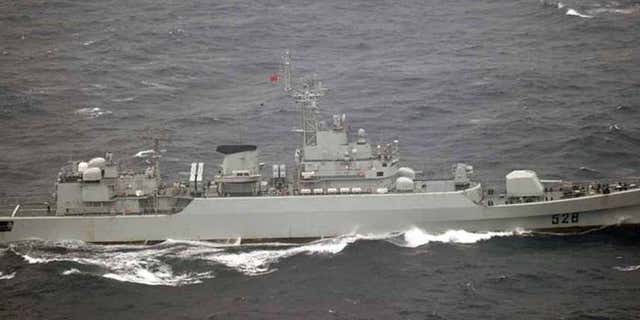 China's land reclamation process in contested waters of the South China Sea, where it is apparently building a "great wall of sand," is raising concerns over the country's intentions, a top U.S. official said Tuesday.
At a speech in Australia, U.S. Pacific Fleet Commander Admiral Harry Harris accused China of building the wall over the areas that have been claimed by several nations, including Vietnam, the Philippines and Taiwan.
"China is building artificial land by pumping sand on to live coral reefs — some of them submerged — and paving over them with concrete. China has now created over 4 square kilometers (1.5 square miles) of artificial landmass," he said.
China claims virtually all of the South China Sea. The Philippines and other countries which have territorial disputes with China in the busy sea have been particularly concerned by the land reclamation projects in the Spratly Islands, as the artificial land could be used for military and other facilities to bolster China's territorial claims.
"When one looks at China's pattern of provocative actions towards smaller claimant states – the lack of clarity on its sweeping nine-dash line claim that is inconsistent with international law and the deep asymmetry between China's capabilities and those of its smaller neighbors – well it's no surprise that the scope and pace of building man-made islands raise serious questions about Chinese intentions," Harris said.
Harris said the U.S. continues to urge all claimants to conform to the 2002 China-ASEAN Declaration of Conduct, in which the parties committed to "exercise self-restraint in the conduct of activities that would complicate or escalate disputes and affect peace and stability.
"How China proceeds will be a key indicator of whether the region is heading toward confrontation or cooperation," he said.
The U.S. says it has a national interest in the peaceful resolution of the disputes in a region crucial for world trade. China says its territorial claims have a historical basis and objects to what it considers U.S. meddling.
Harris said the United States is on track to reposition 60 percent of its navy to the Pacific Fleet by 2020.
"By maintaining a capable and credible forward presence in the region, we're able to improve our ability to maintain stability and security," he said. "If any crisis does break out, we're better positioned to quickly respond."
China's land reclamation has been taking lands back in contested waters of the South China Sea. However, China reportedly said last year the action was "totally justified" as it had "sovereignty" over the area.
China's foreign ministry spokesman Hua Chunying told the BBC last year that the reclamation was for "improving the working and living conditions of the people stationed on these islands."
Vietnam, the Philippines and Taiwan are among several nations that have claimed ownership of territory in the Spratly Islands.
The Philippines filed a complaint with UN's Permanent Court of Arbitration, but China said it will not engage the case. Anti-Chinese violence broke out in Vietnam as China moved a drilling rig into disputed territory in the Paracel Islands.
The Associated contributed to this report.