Chavez says Venezuela detained American for plotting to destabilize the country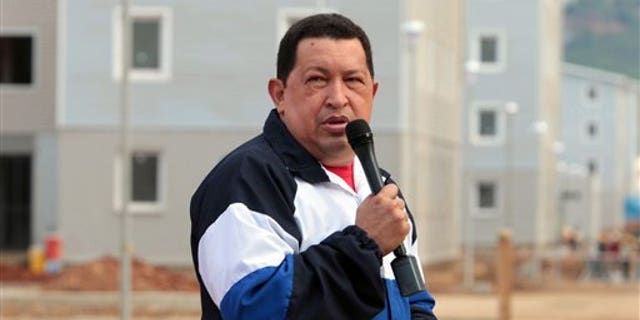 CARACAS, Venezuela – President Hugo Chavez said Venezuelan authorities have detained a U.S. citizen and are interrogating him, suspecting he could be a "mercenary" plotting to destabilize the country if the opposition loses the upcoming presidential election.
Chavez did not identify the man on Thursday night nor detail the accusations against him. But the case has the potential to ratchet up longstanding tensions between Venezuela and the U.S. less than two months ahead of Venezuela's presidential election.
Chavez said the Hispanic man was detained Aug. 4 while crossing into Venezuela from Colombia. He said the man was carrying a U.S. passport with entrance and exit stamps from countries including Iraq, Afghanistan and Libya.
A U.S. State Department official, who spoke on condition of anonymity because he wasn't authorized to speak publicly, said the U.S. government as of Friday morning had not been notified of the arrest by the Venezuelan government.
He said that if the detained man is in fact a U.S. citizen, American officials expect "Venezuela will uphold its obligations under the Vienna Convention on Consular Relations and grant U.S. consular officials access to any detained U.S. citizen without delay."
Opposition lawmaker Pedro Pablo Alcantara scoffed at the president's allegations that government foes would attempt to stir up trouble if Chavez is re-elected to a new six-year term.
Alcantara accused the government of encouraging violence against its adversaries in the past while backing groups that have attacked opposition marches.
"It's the president who has promoted violence," he said.
Chavez has repeatedly accused the U.S. government of plotting against him during the past decade, though he usually has provided few specifics of such claims.
"He has all the appearance of a mercenary," Chavez said of the detained man, speaking during a campaign rally in the coastal state of Vargas on Thursday. "We are interrogating him."
The man tore up part of a notebook in his possession when he was detained, Chavez said.
Chavez suggested, without offering evidence, the American might have been recruited by government opponents to instigate violent protests if opposition presidential candidate Henrique Capriles loses the Oct. 7 election.
The U.S. Embassy in Caracas has been without an ambassador since July 2010. Chavez rejected the U.S. nominee for ambassador, Larry Palmer, accusing him of making disrespectful remarks about his government. That led Washington to revoke the visa of the Venezuelan ambassador.
------