Charlie Hebdo draws on Orlando massacre, Trump for shocking new cover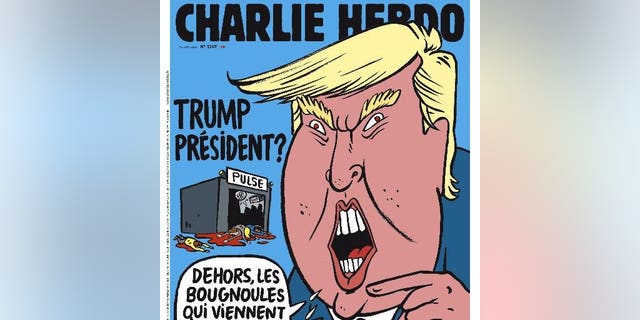 Collapsed in pools of blood outside a darkened Pulse nightclub, four cartoon bodies lay beside a giant Donald Trump caricature that is screaming anti-immigrant rhetoric – a provocative drawing that adorns the new cover of France's satirical Charlie Hebdo magazine.
The often-incendiary publication – which itself was the subject of a terror attack in January 2015 – used Sunday's Orlando nightclub massacre, combined with mockery of the presumptive Republican presidential nominee, to grace its June 15 cover.
An angry Trump points and yells in a word bubble at Muslim immigrants "who come to kill" gay people. Several translations of Hebdo's original French wording reveal profane versions for "immigrants" and "gay people."
All the while, a quartet of slumped bodies lay to Trump's left, just outside a building with the sign "Pulse." A question asks "TRUMP PRESIDENT?"
An ISIS-inspired terrorist slaughtered 49 people and wounded 53 more in Sunday morning's shooting at the gay Florida nightclub, investigators said. Police eventually killed the shooter, Omar Mateen, during a 5 a.m. gun battle that followed a three-hour siege inside the club.
Two Islamist brothers killed 11 members of the Charlie Hebdo staff and wounded 11 others in a Jan. 7, 2015 attack.
Trump tweeted several times about the Charlie Hebdo assault in its immediate aftermath, opining that if some members of the staff were armed, they may have been able to fight back against the terrorists.
"If the people so violently shot down in Paris had guns, at least they would have had a fighting chance," Trump tweeted.