Celebs, Sports Figures, Royalty Flock to Wedding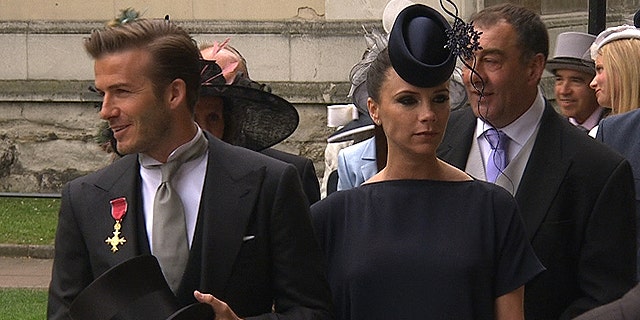 LONDON – They're taking their seats: Soccer star David Beckham with his fashion icon wife Victoria, Princess Diana's brother Charles Spencer and musician Elton John.
Hundreds of royals, politicians, diplomats and other celebrities were also picking their way through the tree-filled Westminster Abbey before Friday's wedding of Prince William and Kate Middleton.
The Great North Door opened under three hours before the ceremony was due to begin. Olympic swimmer Ian Thorpe, one of the wedding's leading sports stars, arrived shortly after 9 a.m. Beckham, with slicked back-hair was making his way through the great medieval building. His pregnant wife, a dark dress hiding her bump, was by his side.
Chelsy Davy, Prince Harry's on-again-off-again girlfriend, was already seated, wearing a blue satin gown. Tabloids have speculated endlessly about the state of her relationship with the younger royal -- her invitation to the abbey was seen as a sign that their relationship was still running strong.
Socialite Tara Palmer-Tomkinson arrived decked out in royal blue: dress, hat and heels. Only her diamond earrings were not the color of royalty.
A number of famous people were left off the guest list, including President Barack Obama and most other world leaders. Britain's last two prime ministers, Tony Blair and Gordon Brown, were also not invited in what is seen by some as a snub to their Labour Party, which traditionally is not as strong a backer of the monarchy as the ruling Conservatives.
Former Prime Minister John Major, a Conservative who was in office from 1990-1997, was invited and entered the abbey just before 10 a.m.