Catalan separatists line up in a row in court as landmark, politically-charged trial begins in Madrid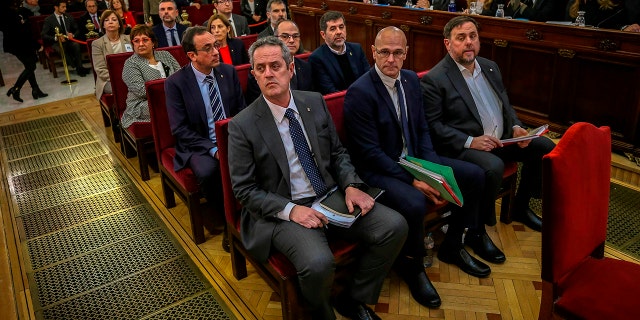 Twelve Catalan separatist leaders – seated three to a row on four benches in the middle of the courtroom – appeared before Spain's Supreme Court on Tuesday in arguably the more important trial since the country's return to democracy more than four decades ago.
The defendants – which include former Catalan Vice President Oriol Junqueras – are facing accusations of rebellion and other charges stemming from their roles in pushing ahead with a unilateral independence declaration in October 2017.
The charge of rebellion carries a prison sentence of 25 years.
CATALONIA PUSHES FOR INDEPENDENCE FROM SPAIN: WHAT TO KNOW
Opening the parliamentary debate on Tuesday, Spanish Budget Minister Maria Jesus Montero told Catalan lawmakers that the government would "not give in to any blackmail by anybody."
"Under no circumstance will we agree to include the right to self-determination in Catalonia in any talking points," she said.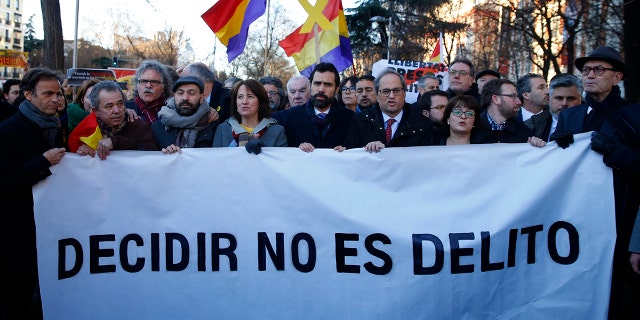 Junqueras' lawyer, Andreu Van Den Eynde, was the first to speak, arguing that the cause goes "against political dissidence."
"We are before an exceptional trial," he told the judges, adding that "self-determination is the formula to avoid conflicts in the world."
Among those not on trial was former Catalan President Carles Puigdemont, who has fled Spain and has called for the 12 separatists to be absolved for their alleged crimes.
He called the trial "a stress test for the Spanish democracy."
"I trust, however, that the Spanish state will take advantage of this chance to issue the correct sentence, which is absolution," he said at a news conference in Berlin, where has been since a German court refused to send him back on charges of rebellion last year.
PRO-INDEPENDENCE CATALANS: 'I'VE NEVER FELT SPANISH'
The proceedings were broadcast live on television in a display of transparency that aims to fight the separatists' attack on the court's credibility. Authorities in Spain have dismissed the notion that the trial is political and say it follows the Europe Union's highest standards.
Proceedings were likely to last for at least three months. The verdicts, and any sentences, will be delivered months later.
Tensions between regional and central authorities peaked with the 2017 breakaway attempt but the conflict has been festering ever since. The 7.5 million residents of Catalonia remain divided by the secession question.
CLICK HERE TO GET THE FOX NEWS APP
Meanwhile, Prime Minister Pedro Sanchez's minority government hinges on last-minute negotiations with Catalan pro-independence parties to back his 2019 budget.
Sanchez could be forced to call an early election if the Catalan separatists, whose support brought the Socialists to power last year, don't change their current position of voting against his spending plan on Wednesday.
The separatists want Sanchez to agree to talks on self-determination for their region, but the government argues that Spain's constitution doesn't allow it.
The Associated Press contributed to this report.