Catalonia pushes for independence from Spain: What to know
Catalonian separatists won a razor-thin majority on Thursday, with the three separatist parties winning a total of 70 seats in the 135-seat regional parliament.
But the snap regional election failed to clarify the way forward, as parties seeking Catalonia's independence will be a majority in the new parliament but a pro-union party got the most votes.
Still, ousted Catalan President Carles Puigdemont celebrated the results from Belgium on Thursday -- the same country he sought refuge in after Spain issued European arrest warrants for him and other separatists in November.
Puigdemont also said that he's ready to meet with Spanish Prime Minister Mariano Rajoy in any location but Spain, because that's where he's facing arrest. In addition, Puigdemont also said he wants guarantees to return to Catalonia and be reinstated as the region's leader.
In response, Rajoy said he expects a "new era based on dialogue" will begin in Catalonia following the snap election, adding that he will talk with the region's new leaders as long as they don't violate Spain's Constitution.
The election comes after the Spanish government took control of Catalonia when separatist lawmakers, led by Puigdemont, declared independence in October.
Spain invoked its never-before used constitutional amendment to take control of the region, giving it the ability to sack Puigdemont and his cabinet as well as authorize the government to curtail the region's parliamentary powers. Spain's Constitutional Court officially annulled the Catalan parliament's independence vote in November.
European neighbors – including Italy, France and Germany – have condemned the independence declaration and rallied behind Spain.
In light of the election, here's what you need to know.
What is Catalonia?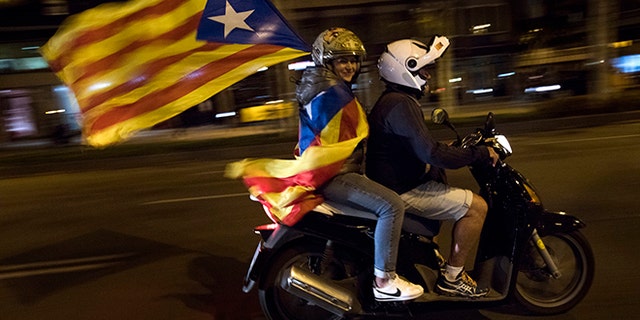 Located in the northeast region of Spain, Catalonia is largely independent with its own culture and language. It's one of the richest and most industrialized areas of the country with a heavy emphasis on manufacturing, according to the BBC.
The region, which includes Barcelona, is home to about 7.5 million people.
Valuing its autonomy, Catalonia has its own parliament and executive, called "Generalitat" in its language.
Why do they want independence?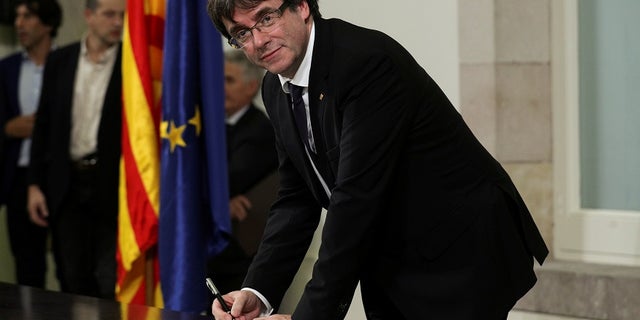 Because of its own cultural identity, those in favor of Catalan independence have pushed for the region to become separate from Spain. Supporters also believe that they have given more to the Spanish government than they have gotten back.
The push for independence "raises questions of the future of democracy and democratic rule," Pamela Radcliff, a University of California, San Diego professor and modern Spain historian, told Fox News. "What's being contested between Spain and Catalonia, one of the things is different visions of what defending democracy looks like."
SOME SEPARATIST-MINDED CATALANS URGE CIVIL DISOBEDIENCE
Radcliff said that "it's very possible" that neither side has "much incentive to compromise."
The region held a referendum on Oct. 1.
Tens of thousands of people gathered in the streets of Barcelona around the Catalan regional government palace to celebrate the independence vote. They chanted for the Spanish flag to be removed as live music played.
The region's parliament voted to establish an independent Catalonia with 70 votes in favor of independence, 10 votes against and two blank ballots. Opposition leaders had left the chambers in protest before the vote.
How did the Oct. 1 vote go?
Catalonia's parliament voted for independence after an Oct. 1 referendum with about 90 percent of the 2.3 million people who voted choosing independence, according to Catalan officials. However, fewer than half of the eligible voters participated in the highly contested referendum.
About 900 people were treated for injuries after voting turned violent when Catalan civilians and Spanish police clashed.
Andrew Dowling, an expert in Catalan history at Cardiff University in Wales, said that an independence declaration by the Catalan parliament is symbolic without border and institutional control and no international support.
PRO-INDEPENDENCE CATALANS: 'I'VE NEVER FELT SPANISH'
The declaration "will see the fracture between hardliners and the pragmatic people in Catalonia who are already seeing an economic fallout," Dowling told The Associated Press.
But Spain's Constitutional Court officially annulled the Catalan independence vote on Nov. 8.

What has been Spain's response?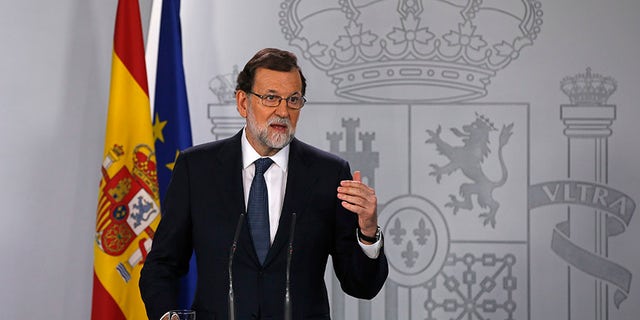 Spain's top court declared the Oct. 1 independence referendum illegal, and Spanish Prime Minister Mariano Rajoy had warned that the government's first move will be to remove Puigdemont from power when the Senate granted him the special powers under Article 155.
Rajoy said what is happening in Catalonia is "a clear violation of the laws, of democracy, of the rights of all, and that has consequences."
Hundreds of thousands of anti-independence protesters demonstrated in the streets of Barcelona and called for the Catalonia region to remain a part of Spain.
Rajoy reportedly refused help from outside civil-society groups and lawyers to mediate negotiations between the two factions. He has also declined to engage in talks with Catalan leaders.
"There is no possible mediation between democratic law and disobedience and unlawfulness," Rajoy said.
What is Article 155?
Spain invoked a clause of its constitution after Catalonia forged ahead with its plans to secede from the country that would take away the region's autonomy.
Catalonia's refusal to backtrack from its independence threats triggered Article 155 of the Spanish Constitution, the government said, which allows central authorities to take over control of any of the country's 17 regions. It's a provision that hasn't been used in the four decades since democracy was restored in the European nation.
OUSTED CATALAN LEADER SAYS HE IS NOT SEEKING POLITICAL ASYLUM, SUPPORTS SNAP ELECTION

An English translation of the constitution states that if an autonomous community breaks the law or disregards the constitution, the Spanish government can – after following certain procedures – "take the measures necessary in order to compel the [community] forcibly to meet said obligations, or in order to protect [Spain's] general interests."
Rajoy's cabinet met in a special meeting to approve measures to take direct control of the Catalan region under Article 155. The Senate gave him the power to do so.
The Associated Press contributed to this report.