Casey Anthony's $1 Million Payday?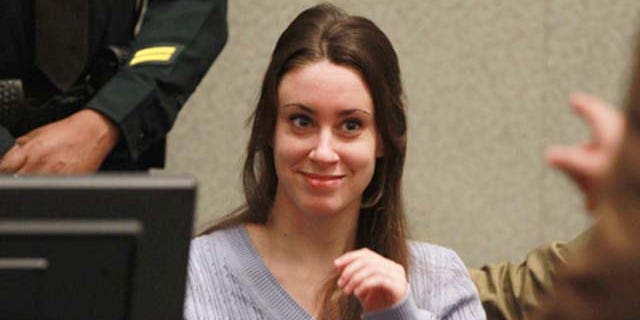 A television producer is claiming to have snagged the first interview with Casey Anthony, according to a report.
And it won't come cheap.
Al Taylor told Dr. Drew Pinksy's HLN show, according to the Los Angeles Times, that he's landed the most coveted interview in the nation – for a staggering $1 million.
Guess it's all about the Benjamins for Anthony, who's been hiding, allegedly in California, after getting acquitted for the death of her two-year-old daughter, Caylee.
The newspaper is reporting that Taylor met with Anthony for 15 minutes in a Palm Beach Springs hotel. He supposedly was not allowed to bring a cell phone or a camera.
"I got a call early Tuesday morning, from a representative that said if you want to meet with her, be in this certain area in 15 minutes," Taylor said on HLN, according to the Times. "I was game. I showed up. I wasn't for sure if I was going to meet her, and sure enough, she was there."
The newspaper is also reporting that Anthony seemed uneasy about taking a lie detector test, a request Taylor asked for in return for the money.
"I want to hook her up to a lie detector after we do the interview, and she was unsure about that of course, and I said, 'Well, it helps you in the end,'" Taylor said.
He added: "I don't think it was a deal breaker, but she definitely wasn't that interested in doing a lie detector."
The Times also mentioned that Ohio-based Schalmo Productions is offering Anthony $5 million for her to tell her story.
Meanwhile, Anthony's lawyer, José Báez, was also spotted doing some negotiations of his own for a major television interview, TMZ is reporting.
Báez is supposedly at the Mandarin Oriental Hotel in New York City. Major networks are battling, too, to see which lands the first interview with the suddenly superstar lawyer.
TMZ says getting Báez will cost a pretty penny, and that it seems that NBC is leading the pack. The Gossip website mentioned that Báez was seen at the hotel with Mark Geragos, who is experienced with high-profile cases and that he allegedly is providing Báez with some tips on negotiating the deal.
You can reach Alexandra Gratereaux at: Alexandra.Gratereaux@foxnewslatino.com or via twitter: @GalexLatino
Follow us on twitter.com/foxnewslatino
Like us at facebook.com/foxnewslatino