Car bomb attacks kill 28 people in Baghdad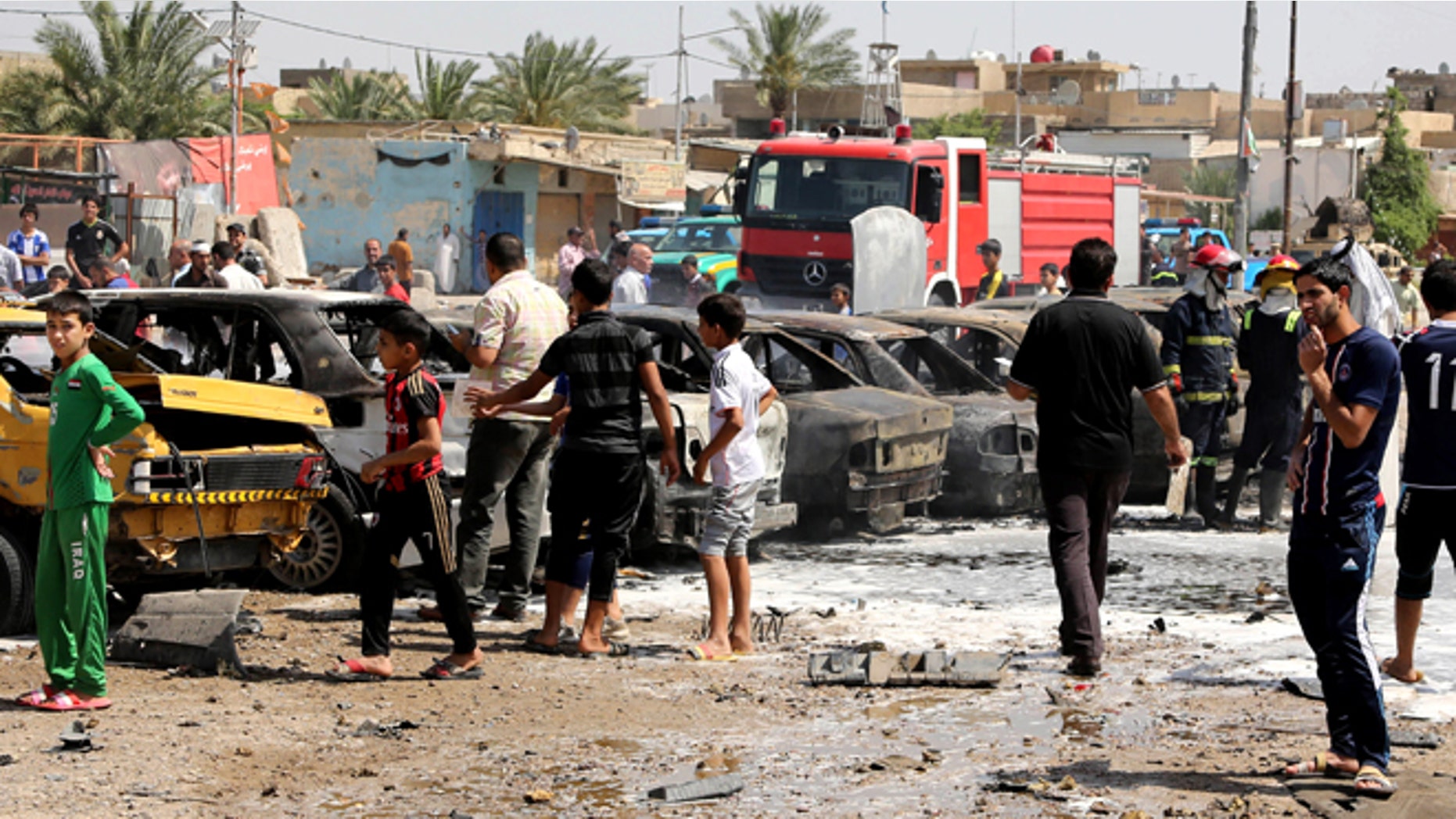 A series of rush-hour car bombings in mainly Shiite areas of Baghdad killed 28 people on Tuesday, officials said.
The attack is the latest in a surge in violence that has been the most serious challenge to the government's efforts to achieve stability across Iraq.
The attacks came as Iraqi Shiites were celebrating the birthday of Imam Ali, the cousin and son-in-law of the Prophet Muhammad and Shiite Islam's most sacred martyr.
In the Baghdad neighborhood of Sadr City, a car bomb went off in the morning hours, killing four people and wounding six, police officials said. Another car bomb elsewhere in Sadr City exploded near a cluster of homes, killing two people and wounding seven.
Associated Press footage from one of the Sadr City attacks showed a thick cloud of smoke rising from the blast area where several cars were on fire.
A short while later, a car bomb exploded in a commercial street in Baghdad's eastern district of Jamila, killing three people and wounding 10. Police said a fourth car bomb went off near a traffic police office in eastern Baghdad, killing four people, including a traffic policeman. Seven people were wounded in that attack.
"I was trying to pick up a passenger when a fireball and a thunderous blast shook my taxi," Kadhim Ali, a driver who narrowly escaped one of three explosions in the slums of Sadr City, told Reuters. "I saw people with their clothes stained with blood shouting for help."
Haithem Kadhum, owner of a juice shop in Jamila who was wounded in the attack there, said he was in his store when he heard a big explosion.
He was told the blast was in his home neighborhood of Sadr City so he rushed to his car to go check on his family. But as he was driving through Jamila, another explosion went off, this one near him. The flying shrapnel wounded him in the shoulder.
"I was wounded in my right shoulder. I went out of the car and I saw dead and wounded people on the ground. Everybody was in panic," said Kadhum, after receiving treatment in a nearby hospital.
Also Tuesday, a car bomb exploded at a square in downtown Baghdad, killing two people and wounding eight, police said. Another car bomb went off in a commercial street in Baghdad's Shiite eastern district of Ur, killing five people and wounding 11.
Elsewhere in Baghdad, a car bomb exploded near an outdoor market in the eastern Shiite suburb of Maamil, killing three people and wounding 14.
In the afternoon, a car bomb went off near a market in Baghdad's southern Dora district, killing five people and wounding 12 others.
No group immediately claimed responsibility for the attacks, which bore the hallmarks of Al Qaeda-inspired Sunni militants who consider Shiites to be "infidels."
Medical officials confirmed the casualty figures. All officials spoke on condition of anonymity because they were not authorized to talk to media.
Preliminary results from the April 30 parliamentary election are expected within the coming days, Reuters reported.
Prime Minister Nuri al-Maliki, a Shiite, is seeking a third term despite violence that critics blame on his policies towards the country's Sunni minority, the report said.
According to the United Nations, 8,868 people were killed in Iraq last year — the country's highest death toll since the peak of sectarian bloodletting in 2007 and 2008.
The Associated Press contributed to this report.