Canada pulls diplomats' families from Cuba over mysterious illness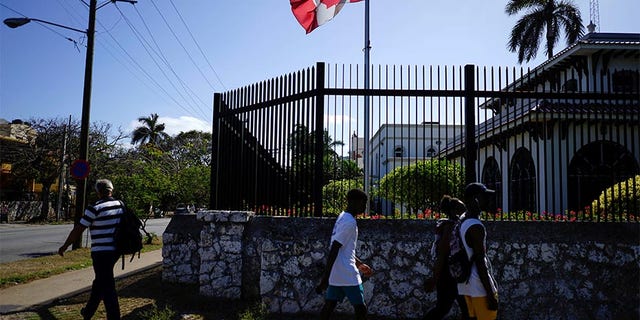 Canada is ordering family members of diplomats stationed in Cuba to return home after they started experiencing mysterious health symptoms – just months after the U.S. State Department yanked two dozen Americans for similar reasons.
The country said Monday that "medical information raised concerns for a new type of a possible acquired brain injury" in 10 Canadians who had been living on the communist-run island – and its cause is baffling investigators.
"The symptoms include dizziness, headaches and lack of ability to concentrate, amongst others," the Canadian government said in a statement. "In some cases the symptoms have appeared to lessen in intensity, before reasserting themselves."
In October, the U.S. pulled 24 American diplomats and dependents out of Cuba after being the victims of "targeted attacks," according to then-Secretary of State Rex Tillerson.
Cuba has repeatedly denied either involvement in or knowledge of any attacks and has said its own investigation into the illnesses has turned up no evidence of deliberate action, the Associated Press reported.
The United States has not accused Cuba of such action but has said Havana holds responsibility nonetheless, arguing that such incidents could not have occurred on the small island without the knowledge of Cuban officials.
Researchers looking into the Canadians' symptoms said some of those affected described becoming ill after hearing a sound in their hotel rooms and homes that was "intensely loud, and with a pure and sustained tonality," according to Sky News, which also reported that children are among the victims.
The Canadian government said results of an environmental assessment of diplomatic staff quarters in Havana, including tests of air and water quality, did not indicate anything that could point to a cause.
"There is a government-wide effort to address this situation, including an ongoing investigation in cooperation with Cuban authorities," Canada said in the statement. "The health, safety, and security of our diplomatic staff and their families is our top priority.
It added that the health concerns were reported last fall and there have been no new cases since then, but people who have already returned home to Canada "have continued to experience symptoms."
"Additional research is needed to better understand this," the statement said. "The cause remains unknown but could be human-made."
Cuba is a favorite tourist destination for Canadians, but the foreign ministry said there is no evidence of any related ailments among Canadian travelers.
The mysterious case has sent U.S.-Cuba relations plummeting from what had been a high point when the two countries, estranged for a half century, restored full diplomatic ties under President Barack Obama in 2015.
The Associated Press contributed to this report.