Canada G20 policeman guilty of assaulting protestor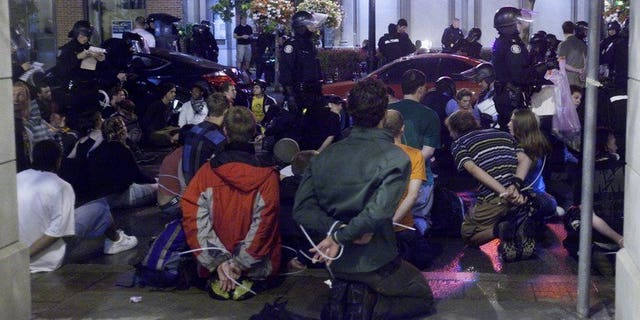 TORONTO (AFP) – A Canadian policeman on Thursday was found guilty of assaulting a protestor with a weapon at a G20 summit in Toronto three years ago.
Police have been roundly criticized for using what a watchdog last year concluded was "excessive force" and breaches of civil rights during the 2010 Group of Eight and G20 summit in Toronto.
But Constable Babak Andalib-Goortani is the first to held accountable for the crackdown. Another prosecution of a policeman resulted in a not-guilty verdict in May.
Andalib-Goortani argued in his defense that activist Adam Nobody had been resisting arrest when the Toronto policeman struck him with his baton after the suspect had been wrestled to the ground by fellow officers.
But Judge Louise Botham said she did not believe his testimony, which was partly contradicted by several videos of the incident taken by bystanders and entered into evidence.
"I accept that in a dynamic situation, arrests need to occur quickly and officers may well need to use force to ensure that happens," public broadcaster CBC quoted Botham as saying in her ruling.
But "the resistance offered by Adam Nobody was minimal."
"A police officer is not entitled to use unlimited force to effect an arrest."
Some 20,000 policemen from across Canada were deployed in 2010 to secure summit sites in Toronto and Huntsville, north of the metropolis, where leaders of the world's top economies were meeting.
When storefronts began being smashed and a police car was set ablaze, police fanned out across the city on orders to "take back the streets."
This resulted in the largest mass arrests in Canadian history with more than 1,100 people crammed into temporary jails.
Nobody told reporters outside the courthouse: "We live in a system we all know that cops get off all the time, so yes, I can honestly say that I was (surprised)" by the verdict.