Canada Debuts Prince William Flag in Honor of North American Tour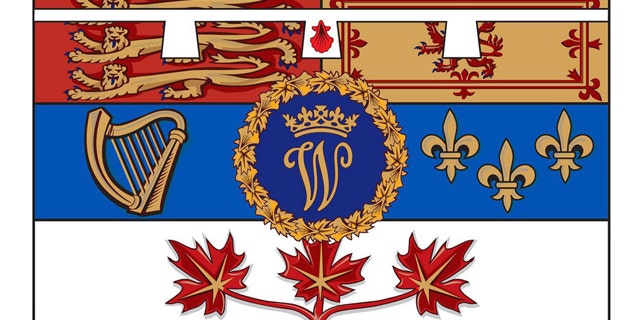 OTTAWA – When the Duke and Duchess of Cambridge arrive in Ottawa Thursday at the start of their 11-day North American tour, a new flag will be flying to honor the prince: his personal red, white, blue and gold banner featuring a wreath of maple leaves and a cursive W.
The flag, unveiled Wednesday by Canadian Immigration Minister Jason Kenney, was the first in 50 years to be created for a member of the royal family, the CBC reported.
It will be raised for the official welcoming ceremony for William and Catherine and flown day and night at any building where he stays and on all vehicles in which he travels.
The royal couple, on their first official trip since their glittering April 29 wedding, will spend eight days in Canada and three in California, which already has launched a national television campaign with the tagline "Three Days Isn't Enough."
It will be William's third visit to Canada and his first official one to the US while Catherine has never been to North America before.
In Canada, a Commonwealth realm, the royals will visit Ottawa, Montreal, Quebec City, Charlottetown, Prince Edward Island, Yellowknife in the Northwest Territories and Calgary, Alberta.
Along the way they'll join in Canada Day festivities July 1, go head- to-head in a dragon boat race, canoe to a remote island some 250 miles (402 kilometers) south of the Arctic Circle and don white Stetson hats to open the chuck wagon races at the Calgary Stampede.
In California, William will play in a polo match in Santa Barbara to benefit his charitable foundation and the couple will attend a dinner for the British Academy for Film and Television Arts.