California couple feared missing in Peru reportedly spotted in remote village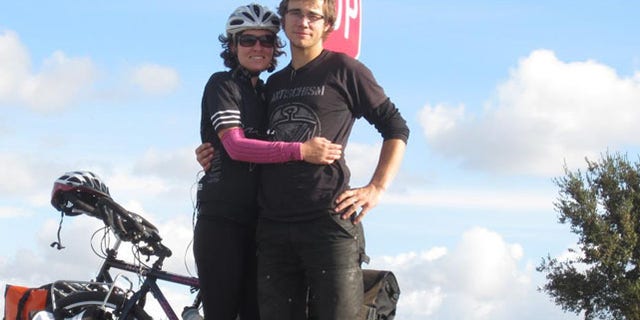 A California couple that vanished on a biking trip in Peru and were feared to be kidnapped have reportedly been spotted in a remote village.
Garrett Hand and Jamie Neal -- both from the San Francisco bay area -- were last heard from on Jan. 25 while traveling from the highlands city of Cuzco to Lima. But Peruvian police say the two have been sighted in the Amazon, according to U.S. Embassy spokeswoman Leslie Goodman.
"The American tourists are continuing to enjoy their trip in the Peruvian Amazon," Peru's tourism ministry said in a statement Tuesday, adding that Hand and Neal were safely traveling by riverboat north to the border with Ecuador, Reuters reports.
Peru's state news agency, Andina, reported that the couple had recently stopped in the town of Angoteros and spoken with a police officer. It said both "expressed their surprise at information that foreign media had reported their supposed disappearance."
The report did not explain why there had been neither banking nor social media activity by either Hand or Neal in more than a month, but it said the two were now in a region without telecommunications or Internet, heading on the Napo river toward the border post of Cabo Pantoja.
National police spokeswoman Betty Lazo tells the Associated Press she was told by the hostel manager in the jungle city of Iquitos that the two departed on a boat trip on the Napo river.
However, Hand's mother says that until the family has "proof of life" they will not stop their search. And the U.S. Embassy said in a statement that it was working with Peruvian authorities to confirm the reports.
"Proof of life is my son's voice on the phone and a picture of him holding the missing poster," Francine Fitzgerald said in a statement.
"The information told to me is that they are on a boat on the river and that they are sending a plane to find them. I am told to expect information by tomorrow sometime," Fitzgerald's statement also read. "While I appreciate the extraordinary efforts of the media, the U.S. and Peruvian governments, until I hear from and see my son directly, we will not stop."
Hand and Neal left for Peru in December and were believed to have disappeared while heading to Lima from Cuzco, an area where the U.S. Embassy says a criminal organization is possibly planning to kidnap American tourists.
Friends and family have said they were worried the pair had been abducted and said their bank accounts had remained idle since they vanished.
The Associated Press contributed to this report.