California Cop Charged With Pepper Spraying Teen's Pizza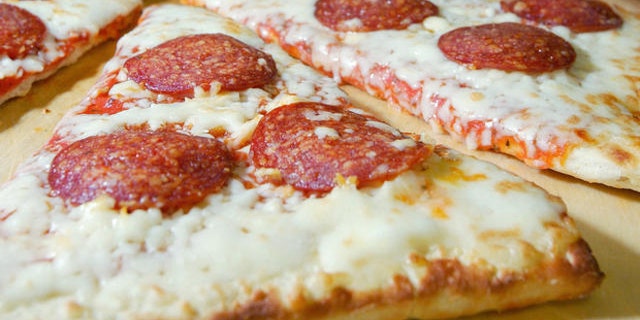 Pepperoni, olives, sausage and pepper…spray.
A sheriff's deputy in California is in trouble after he allegedly added a spicy shot of pepper spray to the pizza of a teenager who was pulled over for a traffic offense.
The 30-year old officer, Juan Tavera, was arrested after the teen and four of his friends got sick after eating the purported polluted pie. It is believed that Tavera sprayed the pizza after noticing it in the back seat of the car that was pulled over by another officer in Laguna Hills, Calif.
Tavera, a six-year veteran of the Orange County Sheriff's Department, is currently on administrative leave, the Los Angeles Times reported.
He is charged with one misdemeanor count of assault and battery by a public officer, and if found guilty he could face up to a year in jail.
The L.A. county pepper spray pizza is the second bizarre crime to involve the non-lethal weapon this year.
Earlier this year, a high student in Chicago sas charged with five counts of misdemeanor battery after he spiked his school's cafeteria lunch with a nasty concoction that had the same intensity as pepper spray.
Three school workers were taken to the hospital and other students and teachers reported everything from rashes to trouble breathing after inhaling the fumes from the contaminated marinara sauce.
The teenager used a form of hot sauce known as Da Bomb, which is so spicy that it is sold in a locked box and consumers must read a waiver that reiterates the strength of the sauce – it is allegedly more than 100 times hotter than a jalapeno pepper – before purchasing it online.
Follow us on twitter.com/foxnewslatino
Like us at facebook.com/foxnewslatino