Bus falls off bridge in India, killing at least 37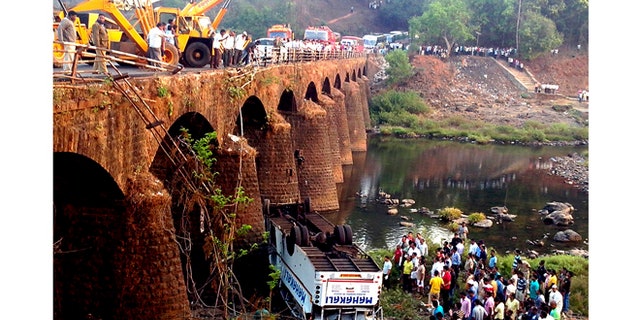 NEW DELHI – A bus packed with passengers crashed through a guard rail and fell off a bridge in western India early Tuesday, killing at least 37 people and injuring another 15, police said.
The overnight bus was carrying passengers from the beach resort state of Goa to Mumbai when it crashed in Ratnagiri district of Maharashtra, said Mahendra Singh Pardeshi, a police official present at the site. The area is about 125 miles south of Mumbai.
The cause of the accident was not immediately clear.
The driver was among those injured in the pre-dawn accident.
The bus had a capacity of 55 passengers, but Pardeshi said it was not known how many people were on board.
Early, blurred video if the accident showed that the bus broke through the guard rail on the bridge and fell several meters to the bank of the Jagbudi River below.