Burma Junta Releases Democracy Leader Suu Kyi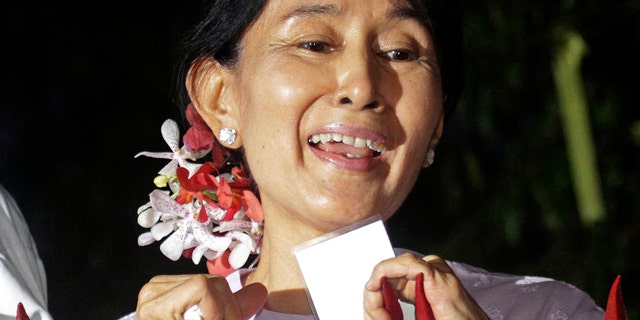 YANGON, Myanmar -- Pro-democracy hero Aung San Suu Kyi walked free Saturday after more than seven years under house arrest, welcomed by thousands of cheering supporters outside the decaying lakefront villa that has been her prison.
Her guards effectively announced the end of her detention, pulling back the barbed-wire barriers that sealed off her potholed street and suddenly allowing thousands of expectant supporters to surge toward the house. Many chanted her name as they ran. Some wept.
A few minutes later, with the soldiers and police having evaporated into the Yangon twilight, she climbed atop a stepladder behind the gate as the crowd began singing the national anthem.
"I haven't seen you for a long time," the 65-year-old Nobel Peace Prize Laureate said to laughter, smiling deeply as she held the metal spikes that top the gate. When a supporter handed up a bouquet, she pulled out a flower and wove it into her hair.
Speaking briefly in Burmese, she told the crowd, which quickly swelled to as many as 5,000 people: "If we work in unity, we will achieve our goal."
"We have a lot of things to do," said Suu Kyi, the charismatic and relentlessly outspoken woman who has come to symbolize the struggle for democracy in the isolated and secretive nation once known as Burma. The country has been ruled by the military since 1962.
But while her release thrilled her supporters -- and also clearly thrilled her -- it came just days after an election that was swept by the ruling junta's proxy political party and decried by Western nations as a sham designed to perpetuate authoritarian control.
Many observers have questioned whether it was timed by the junta to distract the world's attention from the election. It is also unlikely the ruling generals will allow Suu Kyi, who drew huge crowds of supporters during her few periods of freedom, to actively and publicly pursue her goal of bringing democracy to Myanmar.
While welcoming the release, European Commissioner Jose Manuel Barroso urged that no restrictions be placed on her.
"It is now crucial that Aung San Suu Kyi has unrestricted freedom of movement and speech and can participate fully in her country's political process," he said.
Other international leaders also welcomed the end to her detention.
President Barack Obama called Suu Kyi "a hero of mine."
"Whether Aung San Suu Kyi is living in the prison of her house, or the prison of her country, does not change the fact that she, and the political opposition she represents, has been systematically silenced, incarcerated, and deprived of any opportunity to engage in political processes," he said in a statement.
Jared Genser, president of Freedom Now and Suu Kyi's international counsel, also sounded a note of caution.
"The good news is that she can now speak on her behalf," Genser, told The Associated Press in Washington D.C. "But I would caution people in the international community being overly optimistic about the future of the country just yet because we should recall that she's been released three times previously in prior years and nothing fundamentally changed."
While the government had not announced the date of the release, Suu Kyi's lawyer had said the detention would end Saturday. Her supporters began to gather near the house starting Friday.
Their reactions reflected Suu Kyi's widespread popularity.
"She's our country's hero," said Tin Tin Yu, a 20-year-old university student, standing near the house later Saturday night. "Our election was a sham. Everyone knows it, but they have guns so what can we do? She's the only one who can make our country a democracy. I strongly believe it."
Critics say the Nov. 7 elections were manipulated to give the pro-military party a sweeping victory. Results have been released piecemeal and already have given the junta-backed Union Solidarity and Development Party a majority in both houses of Parliament.
The new government is unlikely to win the international legitimacy that it craves simply by releasing Suu Kyi because the recent elections were so obviously skewed, according Trevor Wilson, former Australian ambassador to Myanmar.
What happens next will depend on what kind of restrictions the regime puts on Suu Kyi -- and what she says if she is allowed to speak, said Wilson.
"We will have to wait and see. It could be a little bit of a cat-and-mouse game," Wilson said. "The regime may wait for her to make a tactical error and crack down on her again."
Suu Kyi -- who was barred from running in the elections -- has said she would help probe allegations of voting fraud, according to Nyan Win, who is a spokesman for her party, which was officially disbanded for refusing to register for the polls.
Such actions pose the sort of challenge the military has reacted to in the past by detaining Suu Kyi.
Myanmar's last elections in 1990 were won overwhelmingly by her National League for Democracy, but the military refused to hand over power and instead clamped down on opponents.
Suu Kyi's release gives the junta some ammunition against critics of the election and the government's human rights record, which includes the continued detention of some 2,200 political prisoners and brutal military campaigns against ethnic minorities.
Despite that, it was hard not to see some hope in her release.
"There is no formal opposition (in Myanmar) so her release is going to represent an opportunity to re-energize and reorganize this opposition," said Maung Zarni, an exiled dissident and Myanmar research fellow at the London School of Economics.
But he also said the release was "a tactical move by the regime. It is not out of compassion or as an act of adherence to any legal norms."
The Thailand-based Assistance Association for Political Prisoners, which tracks political detainees in Myanmar, drew attention to continuing abuses.
"In the absence of rule of law, with the lack of an impartial judiciary and with laws that criminalize basic civil and political rights, Daw Aung San Suu Kyi will continue to face the threat of re-arrest," said the group's Joint Secretary, Bo Kyi. "Daw" is a Burmese term of respect for an older woman.
Suu Kyi was convicted last year of violating the terms of her previous detention by briefly sheltering an American man who swam uninvited to her lakeside home, extending a period of continuous detention that began in 2003 after her motorcade was ambushed in northern Myanmar by a government-backed mob.
Suu Kyi, something of an accidental political leader, took up the democracy struggle in 1988.
Having spent much of her life abroad, she returned home to take care of her ailing mother just as mass demonstrations were breaking out against 25 years of military rule. She was quickly thrust into a leadership role, mainly because she was the daughter of Aung San, who led Myanmar to independence from Britain before his assassination by political rivals.
She rode out the military's bloody suppression of street demonstrations to help found the NLD. Her defiance gained her fame and honor, most notably the 1991 Nobel Peace Prize.
Her popularity threatened the country's new military rulers. In 1989, she was detained on trumped-up national security charges and put under house arrest. She was not released until 1995. Out of the last 21 years, she has been jailed or under house arrest for more than 15.
Suu Kyi's freedom had been a key demand of Western nations and groups critical of the military regime's poor human rights record. The military government, seeking to burnish its international image, had responded previously by offering to talk with her, only to later shy away from serious negotiations.
Awaiting her release in neighboring Thailand was the younger of her two sons, Kim Aris, who is seeking the chance to see his mother for the first time in 10 years. Aris lives in Britain and has been repeatedly denied visas.
Her late husband, the British scholar Michael Aris, raised their sons in England. Their eldest son, Alexander Aris, accepted the Nobel Peace Prize on his mother's behalf in 1991 and reportedly lives in the United States.
Michael Aris died of cancer in 1999 at age 53 after having been denied visas to see his wife for the three years before his death. Suu Kyi could have left Myanmar to see her family but decided not to, fearing the junta would not allow her to return.