Migrant caravan prepares to depart Mexico City for longest, most dangerous leg of journey
The caravan of 4,000 Central American migrants that has drawn fire from President Trump prepared to depart a stadium in Mexico City early Saturday for the longest and most dangerous leg of their journey to the U.S. border.
About 900 migrants split off from the main group left Mexico City Friday towards Tijuana, 1,740 miles to the northwest, The Los Angeles Times reported.
"I'm leaving tomorrow because I don't want to stay here any longer, I want to go to the north," Francisco Ramos, 21, a citizen of Honduras, told The Times Friday at the stadium where the migrants have been staying. "Here we are just wasting our time and spending the little money that we have."
MIGRANT CARAVAN PLOWS ON DESPITE FACING BORDER BOTTLENECK AFTER TRUMP TIGHTENS ASYLUM RULES
The paper reported that Tijuana also appears to be a favored destination because of its proximity to California, where many caravan travelers have relatives or friends.
"People tell us that California is the best place, because they treat migrants well there," Carla Solis, 28, who is traveling with a pair of younger brothers,.
The caravan next stop is Queretaro 135 miles from Mexico City.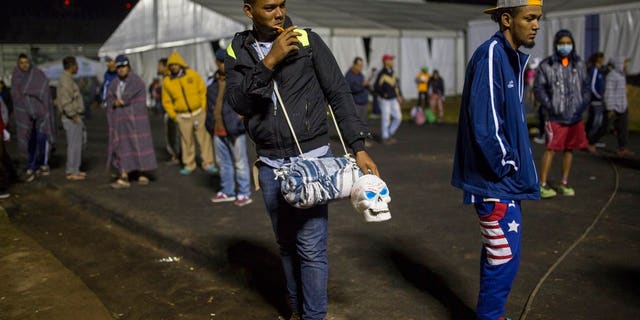 Mexico City is more than 600 miles from the nearest U.S. border crossing at McAllen, Texas, but the area around the Mexican border cities of Reynosa, Matamoros and Nuevo Laredo is so rife with drug gangs that the migrants consider it too dangerous to risk. While still dangerous, the route to California is considered safer.
A previous caravan in the spring opted for the longer route to Tijuana in the far northwest, across from San Diego. That caravan steadily dwindled to only about 200 people by the time it reached the border.
The Pentagon has deployed 1,100 Marines near California's San Ysido point of entry, Fox 5 San Diego reported.
"Anybody that jumps the border fence or crosses between the ports of entry will be arrested and they will be prosecuted to the full extent of the law. That includes this group," U.S. Customs and Border Patrol Chief Rodney Scott told the station.
CARAVAN MIGRANTS SEEK SHELTER IN MEXICO CITY AS 'CARAVAN ELECTION' UNDERWAY IN US
The Marines have been tasked with tightening security, including installing barbed wire along the wall to make it more difficult to cross, according to the station. Troops will also be providing medical support, military police and air support.
More than 5,700 troops have been deployed along the entire southwest border, Scott said. That includes approximately 1,300 troops in California, 1,500 in Arizona and 2,800 in Texas.
Trump ordered the deployment to the border to fend off the migrants. The caravan became an issue in the midterm election. Trump has also threatened to make attaining asylum even more difficult and to detain applicants in tent cities.
The Associated Press contributed to this report.