Brussels: 12 detained after raids linked to terror attacks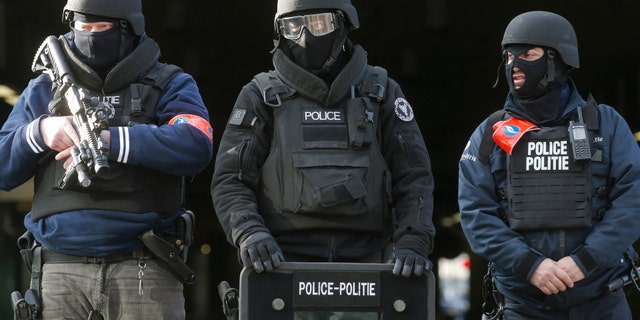 NEWYou can now listen to Fox News articles!
Belgian authorities have detained 12 people on Tuesday who are believed to be connected to last year's terror attacks in Brussels.
Police raided 14 places in and around Brussels, and an investigating judge will decide later whether any of the detainees will be charged.
NOTRE DAME HAMMER ATTACK SUSPECT YELLED 'THIS IS FOR SYRIA'; TERROR INVESTIGATION LAUNCHED
The raids were conducted after a laptop was discovered in the trash in the Schaerbeek district, near the residence where the Brussels bombers left for the airport the day of the terror attacks, according to a POLITICO source. The laptop reportedly held data regarding explosives.
The federal prosecutor's office did not elaborate further on the raids.
LONDON TERROR ATTACK: BRITISH OFFICIALS MISSED WARNING SIGNS AHEAD OF RECENT ASSAULT
On March 22, 2016, 32 people were killed in twin attacks on the Brussels airport and the Maelbeek metro station. Two people involved in the blasts were arrested in April 2016. Three other suspects blew themselves up during the attacks. The Islamic State claimed responsibility for the bombings. Belgium is still in a heightened state of security.
The Associated Press contributed this report.